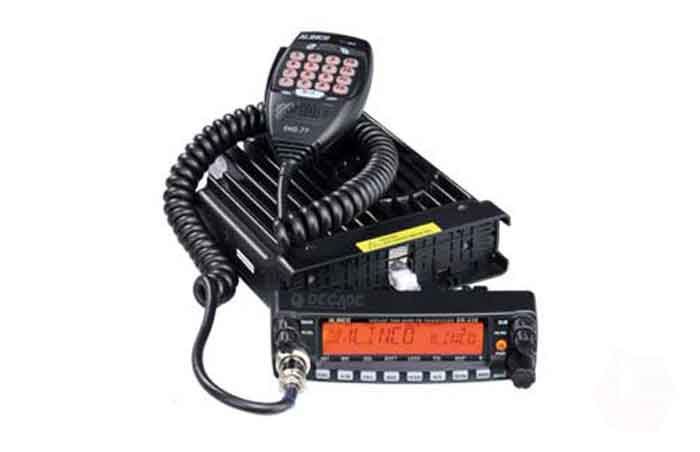 Alinco Base DR-638 Duel Band
VHF/UHF full duplex operation includes V/V and U/U modes. 758 channels programmable, H/M/L power output settings, VHF:50W/25W/10W/5W,UHF:40W/25W/10W/5W The new DR-638T dual-band commercial transceiver from Alinco makes a sharp attractive addition to any operating environment. Starting with full duplex capability, cross-band repeat and a remotely mountable control head, the DR-638T is a solid performer for base or mobile operation
Features:
VHF/UHF full duplex operation includes V/V and U/U modes.

758 channels programmable

H/M/L power output settings-

VHF:50W/25W/10W/5W,UHF:40W/25W/10W/5W

Large 6 character alphanumeric backlit display

Internal duplexer ? single antenna connector

Removable control head can be remotely mounted or inverted for optimal speaker placement

Expanded receive range includes AM civil aviation band & Cross-band repeat where permitted. (Modification required)

Variable Display color tone

Illuminated DTMF EMS-77 microphone allows direct VFO frequency entry and remote control of transceiver

CTCSS, DCS, Tone-Burst Tones,2-tone and 5-tone signaling

Variety of scan modes and priority channel monitoring

TOT, BCLO, Talk Around, Reverse and ANI

Utility software and cable cloning (Optional)

Ignition key activated power on/off feature
Dual-Band Mobile Transceiver with Full Duplex Capability DR-638HE The new DR-638 dual-band transceiver from Alinco makes a sharp attractive addition to any operating environment. Starting with full duplex capability, cross-band repeat and a remotely mountable control head, the DR-638 is a solid performer for base or mobile operation. With a highly visible large, 6 character alphanumeric display features variable display colors for custom illumination. Ignition key on/off feature, theft alarm, extended receive capabilities, a variety of signaling and scan modes are also included at no extra cost! The backlit, DTMF microphone EMS-77 allows remote control of the transceiver. Put the DR-638 with its good looks and smart operating features to work right away in your base station or vehicle as a reliable and easy-to-use, high-quality VHF/UHF transceiver that is perfect for simplex and repeater operations!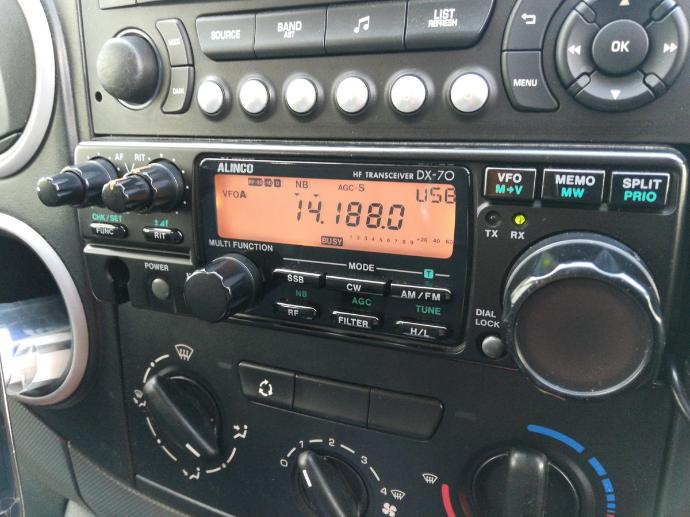 VHF/UHF full duplex operation includes V/V and U/U modes.
758 channels programmable
H/M/L power output settings-
VHF:50W/25W/10W/5W,UHF:40W/25W/10W/5W
Large 6 character alphanumeric backlit display
Internal duplexer ? single antenna connector
Removable control head can be remotely mounted or inverted for optimal speaker placement
Expanded receive range includes AM civil aviation band & Cross-band repeat where permitted. (Modification required)
Variable Display color tone
Illuminated DTMF EMS-77 microphone allows direct VFO frequency entry and remote control of transceiver
CTCSS, DCS, Tone-Burst Tones,2-tone and 5-tone signaling
Variety of scan modes and priority channel monitoring
TOT, BCLO, Talk Around, Reverse and ANI
Utility software and cable cloning (Optional)
Ignition key activated power on/off feature