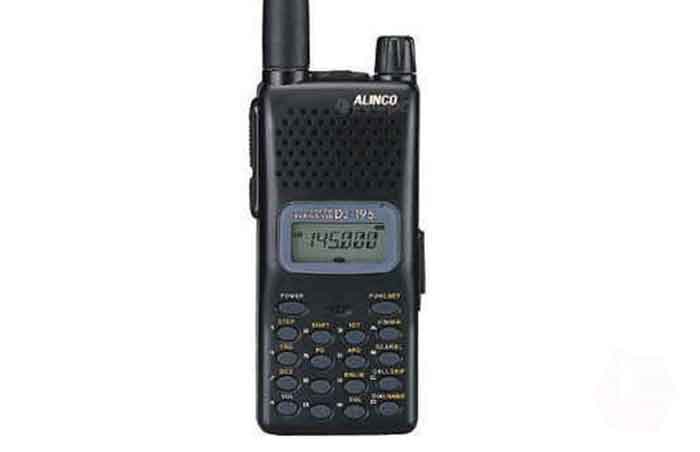 Alinco DJ-195R Transreceiver VHF
VHF Transreceiver has an ability to program the device from the keyboard, built-in signal level meter
39 CTCSS functions
104 DSC functions
Alphanumeric display
Timer function to stop sending and receiving messages
Memory channel designation function
Built-in signal level meter
Precise frequency setting (1750, 2100, 1000, 1450 Hz)
Memory for 9 numbers for autodial
Entering the frequency from the keyboard
Clone function
Memory channel designation function
Theft alarm function
Mosquito (mosquito) protection function
Equipped with an outdoor antenna

Description
The Alinco DJ-195R portable radio continues the tradition of the best-selling VHF band, a transceiver that will provide high-quality communication and will not fail in any weather conditions. The DJ-195R radio station operates in the frequency ranges 136 -173.995 / 130-173.995 MHz and requires permission to use the allocated frequency.

The compact radio station of the Alinco DJ-195 R version features a new shock-resistant housing design. The design of the Alinko 195R station body is made on the basis of a cast all-metal base, the lining of the radio is made of high-quality durable polycarbonate or plastic.
The Alinco 195 R radio has the ability to program the device by the user without using a computer. The transceiver is equipped with a 16-key DTMF keypad, with which you can manually enter the transmit-receive frequency.
The Alinco DJ195R miniature radio is equipped with a cloning function that allows you to quickly rewrite the settings from the donor radio to the acceptor radio. This method significantly saves time for setting up and preparing the transceiver for operation.
The CTCSS and DSC subtone coding options in the Alinco 195 R version help to get rid of industrial interference, as well as from interference caused by other subscribers to the selected channel. The portable DJ-195 R model supports Smar Trunk 2 trunking technology.
The theft alarm function triggers an alarm if the Alinco DJ-195R radio is stolen by intruders, and the anti-pesky insect protection function will become indispensable for those who work in the fresh air near the pond.
The legendary Alinco DJ-195 R model, thanks to its high output power and excellent consumer qualities, is the best offer in terms of price and quality in the professional VHF range.

Features
Alphanumeric display

40 memory channels

5 watt output with standard battery

CTCSS encode+decode and DCS

13.8 VDC direct input with battery charge feature

Direct frequency input

S-meter

Autodialer

Cable Cloning

Computer programmable (third party software required)

MARS/CAP capability (DJ-195T/196T)

 Additional features, including theft alarm!