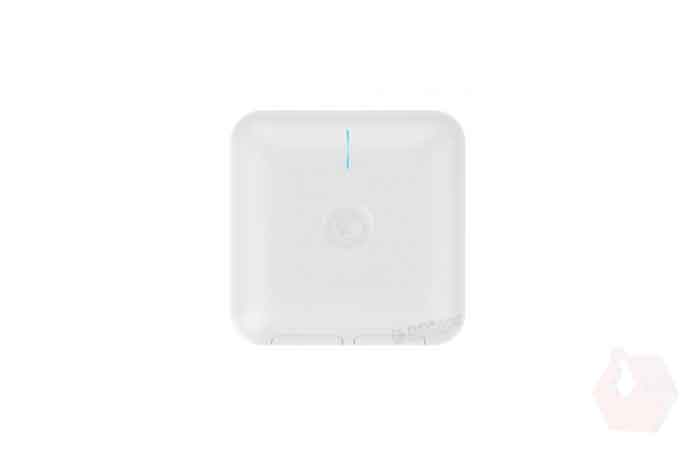 Cambium cnPilot e600 indoor WiFi AP
cnPilot e600 Wi-Fi Access Point stay on top of the latest standards with the high-powered, Gigabit speed, beamforming, Multi-user MIMO (MU-MIMO) 802.11ac wave 2 e600 access point with a 4×4 antenna array.
Features:
- IEEE 802.11a/b/g/n/ac Wave 2 | Other standards: 802.11 h/d/r/u/w/
- MIMO Streams 2x2 (2.4 GHz) , 4x4 (5 GHz) MIMO streams.
- Range : 250 m (800 Ft)
- Concurrent Clients : 512
- Max Data Rate : 1.73 Gbps (1,733 Mbps)
- Secure Web page, RADIUS based 802.1x including EAPSIM/AKA, EAP-PEAP, EAP-TTLS, and EAP-TLS MAC authentication (local database or External RADIUS server)
- Captive Portal/ Guest Access:  cnMaestro Controller ; Stand-alone AP based;  Redirection to external RADIUS Server ;Active Directory Integration
- Secure WLAN : WPA-TKIP, WPA2 AES, 802.1x 802.11w (Protected Management Frames)

Product Description
The High powered, Gigabit speed, beamforming, Multiuser MIMO (MU-MIMO) 802.11ac wave 2 e600 access point with a 4x4 array antenna array implements the latest standards. Perfect for just about any place needing high capacity throughput, high range, and/or high client capacity. Ideal workhorse to take on high traffic demand in Classrooms (Schools), Indoor public spaces, Malls, Hotels, or Enterprise offices .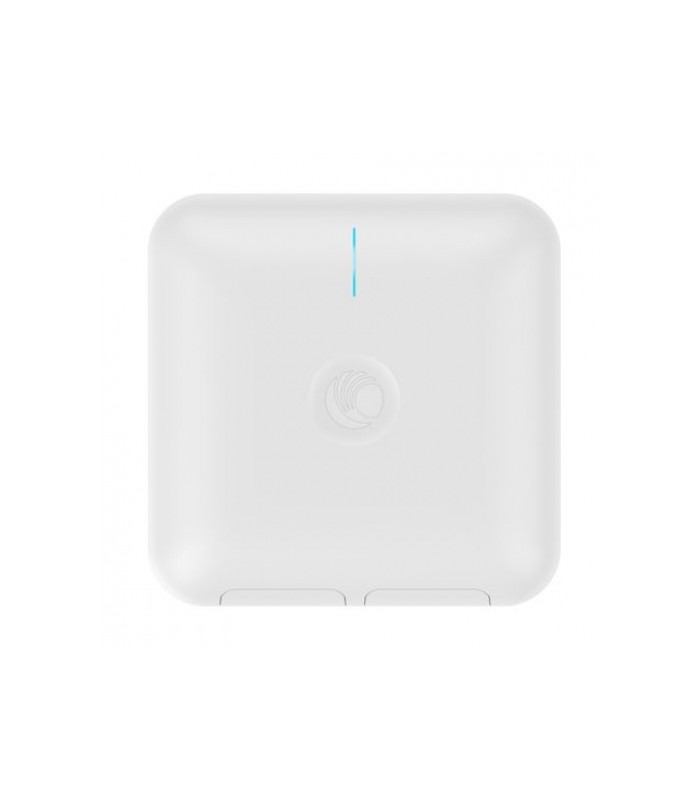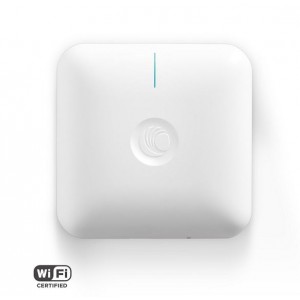 Features:
Controller Managed + Autonomous

Controller-Less Roaming. Powerful Simplicity

Monetize: Vouchers. Social Login

Service Aware WLANs. Better User Experience.

Indoor/Outdoor Wi-Fi Mesh. Flexibility.

Coverage, Capacity. Speed. 

High Density, Highly Available

License Free High Performance. One Low Price.
 Product Specifications

Standards

IEEE 802.11a/b/g/n/ac Wave 2

MiMO Streams

2x2 (2.4GHz), 4x4 (5GHz)

Range

250m (800ft)

Concurrent Clients

512

Max Data Rates

1.3Gbps

SSID

32 SSIDs across 2 radios

Antenna Gain

4.55dBi (2.4GHz) / 4.25dBi (5GHz)

Multi-Hop Mesh

Yes, supported on Indoor and Outdoor access points. Mesh auto-recovery supported

Polarization

Dual-linear

Antenna Coverage

Omni (360°)

USB

Yes

Bluetooth Radio

Yes, BLE

Ethernet Ports

(1) 2 Gigabit Ethernet

Frequency Bands

2.4GHz: 2400 - 2484MHz
5GHz: 5150 - 5850MHz with DFS band support

Power Supply

Standard 802.3af injector, 802.3at PSE, 802.3af PSE (limited performance), 12VDC adapter (accessory) or PoE switch

Power Consumed

22W (max)

Dimensions

180 x 180 x 42mm

Weight

400g

Temperature

0 to 50C

LED

Single LED window with tri-color (Amber, Blue, Green) display

Max Tx Power

22dBm

Physical Lock

Kensington key hole