Cambium cnPilot e700
cnPilot e700 Enterprise Outdoor APs feature Gigabit throughput, 802.11ac Wave 2 standard with beam forming for superior outdoor Wi-Fi for enterprise campus, hospitality, higher education and public Wi-Fi applications.
Features
8 dBi high-gain omnidirectional antenna at 2.4 and 5 GHz

11ac wave 2 standard based beam forming on 5 GHz

4×4 MU-MIMO antenna on 5 GHz

2×2 MIMO antenna on 2.4 GHz

EIRP: 33 dBm (2.4 GHz) and 36 dBm (5 GHz)

512 clients, 16 SSIDs

IP67 rated rugged enclosure

The cnPilot e700 is cloud-managed

Product Description
The Cambium cnPilot e700 is the latest product in the Cambium Outdoor Access Point Line-up. The e700 offers greater reach through higher antenna gain, greater client capacity, and faster 802.11ac wave2 technology. This compact, cloud-controlled access point is ideal for public Wi-Fi in capacities such as large area enterprise campuses, higher education campuses, while its resilience allows it to operate in hostile conditions such as marinas, beach resorts, hot deserts, or cold mountains, all without compromising power or speed.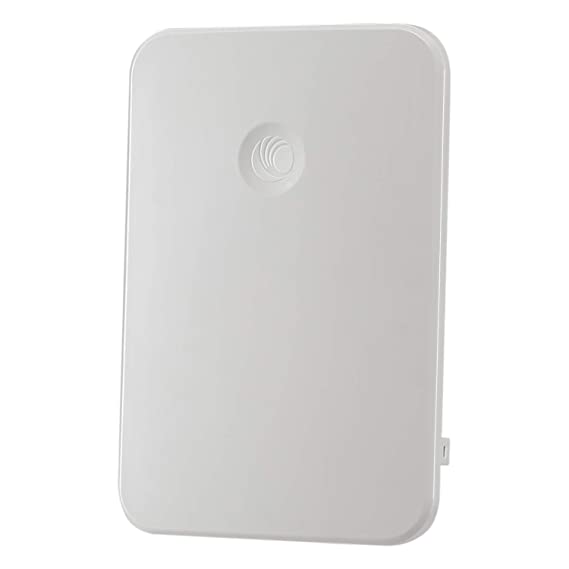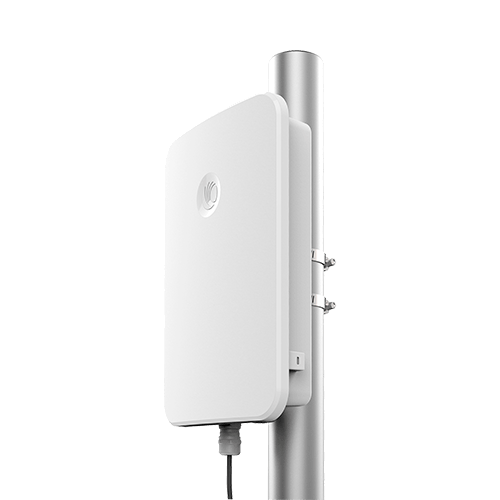 Features
802.11ac, 512 users, 16 SSIDs

UV rated IP-67 enclosure

Operating humidity : 10% to 95%

Electrical heater for cold start

Rugged; ESD protection, Industrial grade
Wi-Fi Features
Controller Modes: Autonomous Controller-less operations (E.g.: roaming), Cloud Managed, On-premise virtualized controller

Secure WLAN: WPA-TKIP, WPA2 AES, 802.1x, 802.11w (Protected Management Frames)

Hotspot 2.0: Passpoint supported

Captive Portal: cnMaestro Controller, Redirection to external RADIUS, Stand-alone AP based, Server DNS logging

Authentication: RADIUS based 802.1x including EAP-SIM/AKA, EAP-PEAP, EAP-TTLS, and EAP-TLS, MAC auth (local database or External RADIUS server)

Accounting: Yes. Supports RADIUS based accounting to multiple AAAs

Scheduled SSID: Turn SSID ON/OFF on a daily/weekly/time of day basis

Guest Access: Yes. With Active Directory Integration, Vouchers, Rate Limiting, Splash page creation on cnMaestro

VLAN: VLAN pooling, Dynamic VLAN from RADIUS server. VLAN per SSID per user

Data Limiting: Dynamic rate limiting of client traffic per SSID

Subscriber QoS: WMM

Client Isolation: Yes

Controller-less Roaming: Yes. 802.11r, Opportunistic Key Caching supports Enhanced roaming. Disconnect for sticky clients

Airtime Fairness: Yes

Mesh: Multi-hop meshing

ACS: Automatic Channel Selection: autoTune: Autonomous dynamic off-channel scans w/o disconnecting clients. Periodic scans and scheduled scanning

Automatic TX Power Control: autoRF: Autonomous controller-less transmit power control

NAT: Yes

DHCP Server: Yes

Firewall: Yes. NAT logging

ACL, DNS-ACL: Yes. L2, L3 or DNS based access control

Brand Balancing: Yes

Tunneling: L2TP, L2oGRE, PPPoE

Tools: Packet capture, IP connectivity, Wi-Fi analyzer, Sniffer, Auto Logging, Open source ZapD compliant performance test tool

APIs: Presence Location APIs
Designed for the outdoors
802.11ac, 256 users, 16 SSIDs

Omni coverage

UV rated IP-67 enclosure

Max Operating Temp range: -40°C ~ +65°C

Operating humidity : 10% to 95%

Electrical heater for cold start

Ruggedized - ESD protection, Industrial grade components

Packaged with wall mount brackets

Special LTE coexistence filters

315 x 215 x 66 mm | 3.174 lbs (1700 gms)
cnMaestro - WiFi Controller
Guest Access: Custom Splash pages, Vouchers, Social login

Zero-touch Provisioning

Inventory tracking

Map location

Monitoring: key Stats, Alarms

Mass (bulk) upgrade

Integrated troubleshooting: WiFi APs, Clients & Cambium SMs

Available in Cloud or as On-premises (NOC) Virtual controller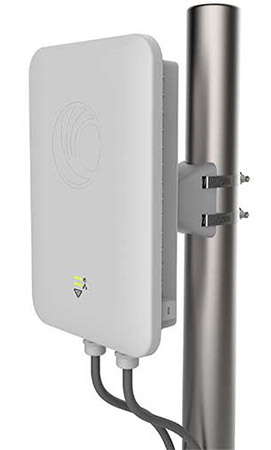 Specifications
| | |
| --- | --- |
| Frequency Bands | 2.4 GHz: 2.4 – 2.4835 GHz Channels 1 – 13 (ETSI/CE), Channels 1 – 11 (US) 5 GHz: 5.15 – 5.85 GHz |
| SSID Security | WPA-2 (802.11i): WPA2-Enterprise (802.1x/EAP) & WPA2-Preshared-keys, Open |
| Max SSIDs | 16 |
| Max Concurrent | Clients  512 |
| Max Data Rates | 2.4GHz: 400Mbps, 5GHz: 1733Mbps |
| Ethernet Ports | Dual Gigabit Ethernet ports (2 x 10/100/1000Base-T) |
| Antenna Integrated | Omni |
| Antenna Gain | 8 dBi (2.4 GHz and 5 GHz) |
| Power Consumed | Typical 18W. Max 24.6W |
| Dimensions (cm) | 315 x 215 x 66 mm (without bracket) |
| Weight | 3.174 lbs (1700 gms) without bracket |
cnPilot E700 Outdoor Omni Access Point