DJ-A11 Transreceiver ALINCO VHF
Just when you thought great audio and tough as nails construction were luxury features available only on the most expensive models, and just when you thought simple, intuitive operation was a thing of the past, along comes the Alinco DJ-A11.
Features:
128 channels to program operating parameter via PC utility dealer software.

Comes with a rechargeable Li-Ion pack, desktop quick-charger and high-performance whip antenna

Ergonomically designed compact body 59.0WX98.0HX35.0Dmm or 2.32W x 3.86H x 1.38D inches (w/o projections, approx.) , weighs approx. 227G or 8.01oz inclusive of battery pack and antenna
Product Introduction
The DJ-A11 VHF handheld transceiver is packs a lot of performance into a MIL-spec rugged polycarbonate body. Designed to resist splash and dust, the DJ-A11 features professional grade specs such as 1W audio output, 2.5ppm frequency stability, capable of operating at 5W with 50 tone-squelch, DCS or DTMF/ANI in 128 programmable-channels best suited for retails, construction, factory, warehouse, in a theme-park, shopping mall, exhibition hall or hotel... where you need reliable communications for business, the DJ-A11 is a cost effective alternative to a mobile/cell phone!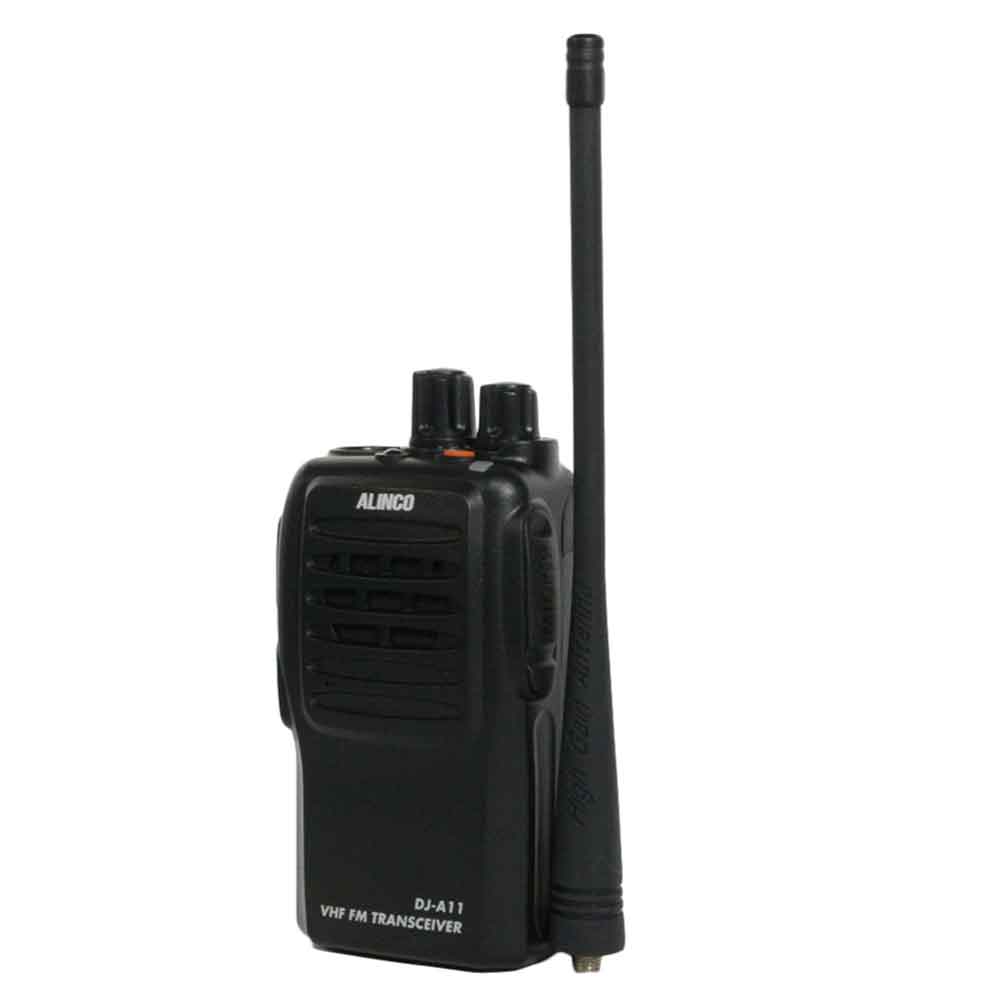 Features
 128 Channels programmable via Dealer Software


Comes with a rechargeable Li-Ion pack, desktop quick-charger and high-performance whip antenna

2 types of Scan functions (Memory channels/Priority), 50 CTCSS, 116 DCS and 4 Tone-burst tones

Radio stun/kill/revive functions to protect your communication security

Microphone and speaker ports

Includes Internal VOX, Voiceprompt, Remote-Kill/Stun/Waken, Analog scrambling, Voice Compander, Narrow FM, Repeater-reverse, Auto-Power-OFF, Busy-Channel- Lockout, Time-Out-Timer and more at no extra costs!

MIL-STD-810G shock/vibration compliant

IP54 Dust & Splash-proof compatible

FCC/IC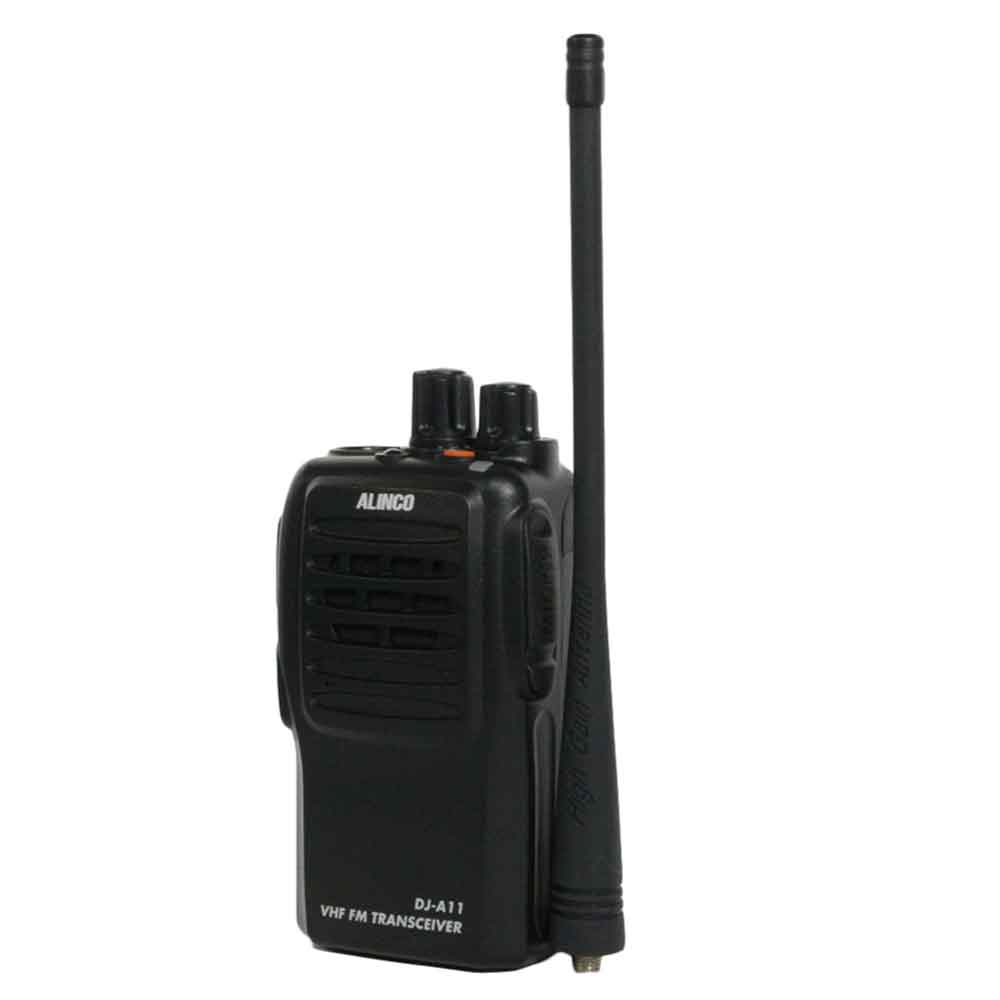 Specifications
General
| | |
| --- | --- |
| Frequency coverage | 136-174MHz |
| Mode | F3E(16K0F3E / 11K0F3E ) |
| Programmable channels | 128 channels |
| Frequency stability | ±2.5ppm |
| Power supply requirement | 7.4V DC±20% (negative ground) |
| Current drain (Approx.) | 1400mA TX / 300mA receive at Max audio output / 70 mA squelched |
| Usable temperature range | —20--- +55°C(-4---131 °F) |
| Dimensions (Projections not included/approx.) | 59.0Wx98.0Hx35.0D mm or 2.32Wx3.86Hx1.38D inches |
| Antenna length | 170mm |
| Weight | approx.227g or 8.01oz inclusive of battery pack and antenna |
Transmitter
| | |
| --- | --- |
| Output power | Approx. 5 / 2 / 0.5W |
| Modulation system | Variable reactance FM |
| Spurious emissions | Less than —36dBm |
| Max. frequency deviation | ±5kHz / ±2.5kHz |
Receiver

| | |
| --- | --- |
| Receive system | Double conversion superheterodyne |
| Intermediate frequencies | 38.85MHz |
| Sensitivity(12dB SINAD Wide/Narrow) | —12dBM or better,(0.25pV/0.35pV) or better |
| Selectivity  | —6dB : Wide 12kHz /Narrow 10kHz or more  —60dB : Wide 30kHz / Narrow 24kHz or less |
| Audio output power | 1000n1W(10% distortion) |