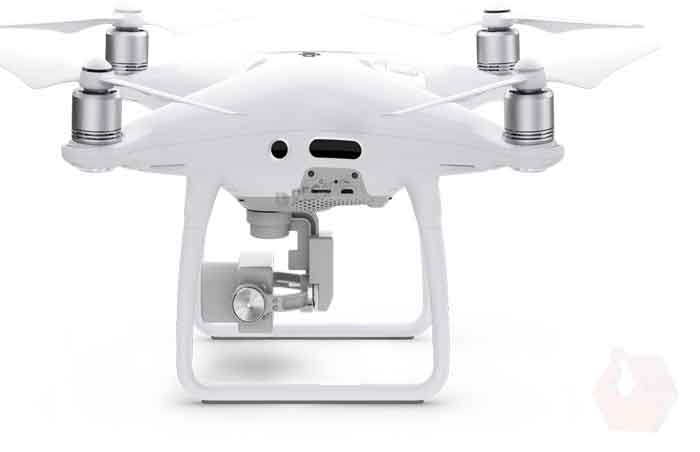 DJI Phantom 4 Version 2
Featuring a 1-inch CMOS sensor that can shoot 4K/60fps videos and 20MP photos, the Phantom 4 Pro V2.0 grants filmmakers absolute creative freedom.
Features:
The Phantom 4 Pro V2.0 camera drone comes equipped with a 3-axis motorized gimbal and a 1-inch 20MP CMOS sensor with a mechanical shutter that eliminates rolling shutter distortion.

The standard controller features a smartphone holder. You will need to install the DJI GO 4 App on your phone to fly your drone.

The Phantom 4 Pro V2.0 is a beast when it comes to flight performance. It has a maximum flight speed of 72 kph and an 8km transmission range with 1080p livestreaming and automatic frequency switching thanks to OcuSync 2.0.

The Phantom 4 Pro V2.0 offers Intelligent Flight Modes such as TapFly, ActiveTrack, Draw mode, Gesture mode, and more. Draw lets you control the flight path with a fixed altitude simply by creating a route on the screen.

What you get: DJI Phantom 4 Pro V2.0, Remote Controller, Intelligent Flight, Battery, Charger, Power Cable, 4x Propellers (pair), Gimbal Clamp, microSD Card (32GB), Micro USB Cable, Carrying Case

Video capture resolution: 4K UHD 2160p
Product Introduction
Version 2 of the DJI Phantom 4 Pro includes all the same great features as the original Phantom 4 Pro and boasts several enhancements, including improved resolution for on-controller live-view streaming, enhanced connectivity, and more. Like the original, the Phantom 4 Pro Version 2 features a 3-axis-stabilized gimbal camera with a 20MP 1" CMOS sensor capable of shooting up to 4K60 fps video and photo bursts at up to 14 fps. It also utilizes the Flight Autonomy system, which includes dual rear-vision sensors and infrared sensing for a total of five directions of obstacle sensing and four directions of obstacle avoidance. Instead of Lightbridge, the Phantom 4 Pro Version 2 now uses Ocusync, which enables improved live video stream performance. Other notable enhancements include lighter props and reduced overall takeoff weight, wireless integration with DJI Goggles, and bolstered transmission power.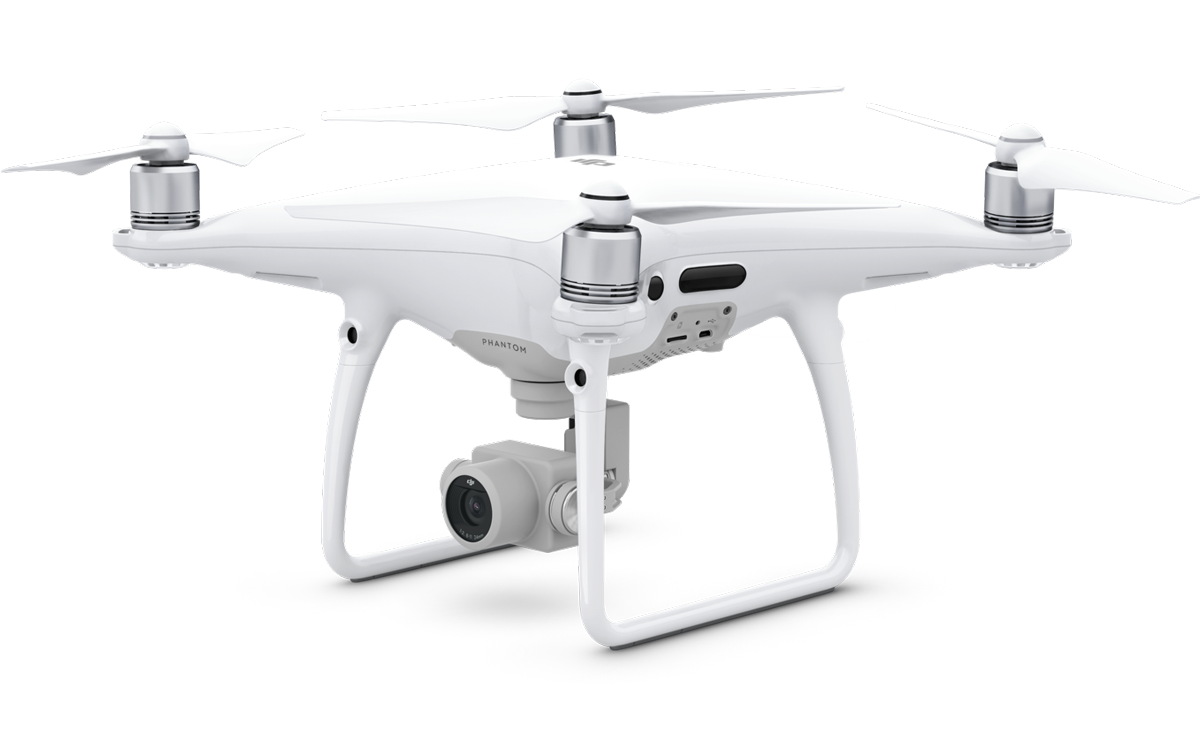 Features:
The Phantom 4 Pro V2.0 camera drone comes equipped with a 3-axis motorized gimbal and a 1-inch 20MP CMOS sensor with a mechanical shutter that eliminates rolling shutter distortion.

The standard controller features a smartphone holder. You will need to install the DJI GO 4 App on your phone to fly your drone.

The Phantom 4 Pro V2.0 is a beast when it comes to flight performance. It has a maximum flight speed of 72 kph and an 8km transmission range with 1080p livestreaming and automatic frequency switching thanks to OcuSync 2.0.

The Phantom 4 Pro V2.0 offers Intelligent Flight Modes such as TapFly, ActiveTrack, Draw mode, Gesture mode, and more. Draw lets you control the flight path with a fixed altitude simply by creating a route on the screen.

DJI GO 4 App requires iOS 10.0.2, Android 5.0 or above. Compatible devices include: iPhone 11 Pro Max, 11 Pro, 11, XS Max, XS, XR, X, 8 Plus, 8, 7 Plus, 7, 6s Plus, 6s, 6 Plus, 6, SE, iPad Pro, iPad, Air 2, mini 4. Samsung Galaxy S10+, S10, S9+, S9, S8+, S7, S7 Edge, S6, S6 Edge, Note 8, Huawei P30 Pro, P30, P20 Pro, P20, P10 Plus, P10, Mate 10 Pro, Mate 10, Mate 9 Pro, Mate 9, Mate 8, Honor 8X, 10, 9, 20 Pro, Magic 2, Vivo X20, X9, NEX, X27, X21, X20A, Oppo Find X, R15, R11, Xiaomi Mi Mix 2S, 2, 8, 6, Redmi Note 5, OnePlus 7, 6T, 5, Pixel 3 XL, 2 XL, 2, Google Pixel 2XL, OnePlus 6, 5T.

What you get: DJI Phantom 4 Pro V2.0, Remote Controller, Intelligent Flight, Battery, Charger, Power Cable, 4x Propellers (pair), Gimbal Clamp, microSD Card (32GB), Micro USB Cable, Carrying Case

Video capture resolution: 4K UHD 2160p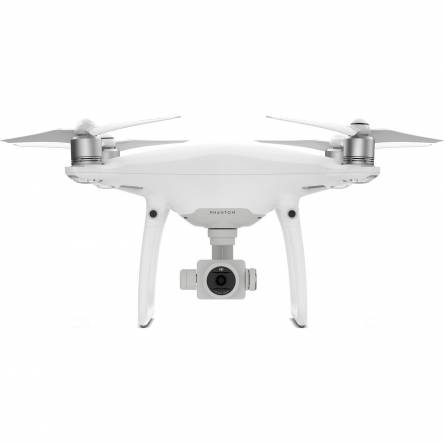 Specifications
Performance
Maximum Takeoff Weight

48.50 oz / 1375 g

Maximum Horizontal Speed

31.1 mph / 50 km/h (P-mode)

44.7 mph / 72 km/h (S-mode)

Maximum Flight Time

30 Minutes

Hovering Accuracy

±0.98' / 0.3 m Horizontal with Vision Positioning

±0.33' / 0.1 m Vertical with Vision Positioning
Flight Control System
| | |
| --- | --- |
| GNSS Support | GPS, GLONASS |
3D Object Detection
| | |
| --- | --- |
| Operating Range | 0.7 to 23.0' / 0.2 to 7.0 m |
| Minimum Object Size | 7.9 x 7.9" / 20.0 x 20.0 cm |
| Required Object Reflectivity | >8% |
Vision System
Vision System

Downward, Forward, Backward, Left, Right

Velocity Range

46 ft/s / 14 m/s at 6.6' / 2 m

Maximum Altitude

32' / 10 m

Operating Range

0.0 to 32.8' / 0.0 to 10.0 m

Obstacle Sensory Range

0.7 to 23.0' / 0.2 to 7.0 m

Forward Field of View

60° (Horizontal)

±27° (Vertical)

Downward Field of View

70° (Front to Back)

50° (Side to Side)

Backward Field of View

60° (Horizontal)

±27° (Vertical)

Operating Environment

Surface with Clear Patterns at >15 lux
Remote Controller / Transmitter
Operating Frequency

2.4 GHz (2.4 - 2.483)

5.8 GHz (5.725 - 5.825)

Maximum Operating Distance

22,966' / 7000.04 m at 2.4 G

22,966' / 7000.04 m at 5.8 G

Transmitter Power

26 dBm (2.4 G)

26 dBm (5.8 G)

Battery Type

1 x Built-In

Battery Chemistry

Lithium-Ion Polymer (LiPo)

Battery Capacity

6000 mAh

Mobile Device Compatibility

Devices up to 6.3" / 160.02 mm Wide and 0.3" / 7.62 mm Thick

App Operating System Requirements

Android 4.4 and later

iOS 9.0 and later
Camera
Sensor

1" CMOS

Effective Pixels

20 MP

Focal Length

8.8mm / 24mm (35mm Equivalent)

Lens Field of View

84°

Aperture

f/2.8 to 11

Minimum Focusing Distance

3.3' / 1.0 m

Photo ISO Range

100 to 6400 (Manual)

100 to 3200 (Auto)

Video ISO Range

100 to 6400 (Manual)

100 to 3200 (Auto)

Electronic Shutter Speed

8 to 1/8000 Second

Photo Resolution

3:2: 5472 x 3648

16:9: 5472 x 3078

4:3: 4864 x 3648

Photo Format

JPEG, DNG

Video Formatz

4096 x 2160p at 24/25/30 fps (100 Mb/s MOV via H.265)

3840 x 2160p at 24/25/30/60 fps (100 Mb/s MOV via H.265)

2720 x 1530p at 24/25/30 fps (100 Mb/s MOV via H.265)

1920 x 1080p at 24/25/30/48/50/60/120 fps (100 Mb/s MOV via H.265)

1280 x 720p at 24/25/30/48/50/60/120 fps (100 Mb/s MOV via H.264)

Photo Modes

Auto-Exposure Bracketing (AEB), Burst Shooting, Interval, Single Shot
Gimbal
Number of Axes

3 (Pitch, Roll, Yaw)

Control Range

Pitch: -90 to 30°

Yaw: 0 to 15°
Flight Battery
| | |
| --- | --- |
| Battery Chemistry | Lithium-Ion Polymer (LiPo) |
| Capacity | 5870 mAh / 89.2 Wh |
| Battery Configuration | 4 S / 17.4 V |
| Maximum Charging Power | 160 W |
Charger
| | |
| --- | --- |
| AC Input Power | 100 to 240 VAC, 50 / 60 Hz |
| Output Voltage | 17.5 V, 5.7 A |
| Power Rating | 100 W |
General
| | |
| --- | --- |
| Number of Rotors | 4 |
| Weight | 48.50 oz / 1375 g (Including Propellers, Battery, Gimbal, Camera) |
Packaging Info
| | |
| --- | --- |
| Package Weight | 10.3 lb |
| Box Dimensions (LxWxH) | 16.5 x 13.5 x 9.25" |