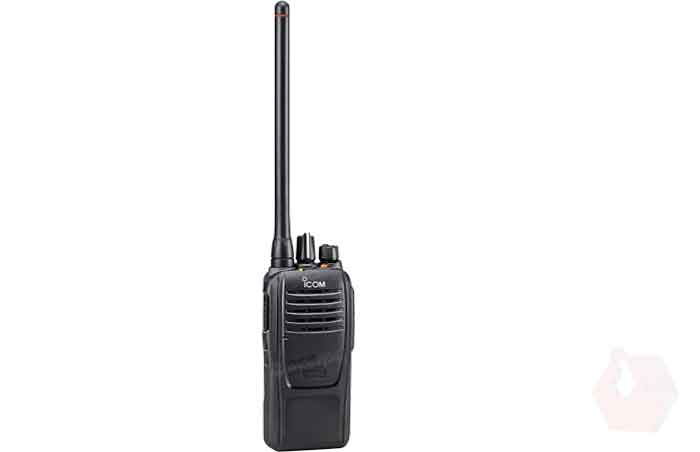 IC-F1000 Transreceiver ICOM VHF
The IC-F1000 can program Type-D single-site trunking and digital conventional modes as well as analogue mode per channel.
Features:
IP67 waterproof and dust-tight protection

Enhanced Emergency with built-in motion sensor

Easy to hear in a noisy environment

Inversion voice scrambler

14 hours of operating time with supplied waterproof battery
Introduction
The IC-F1000 is a compact portable two way radio series with convenient features such as a built-in motion sensor, channel announcement function, loud audio and a rugged waterproof & dustproof chassis. The radio is ideal for a wide range of businesses such as those involved in the education, hospitality, retail, and facility management sectors.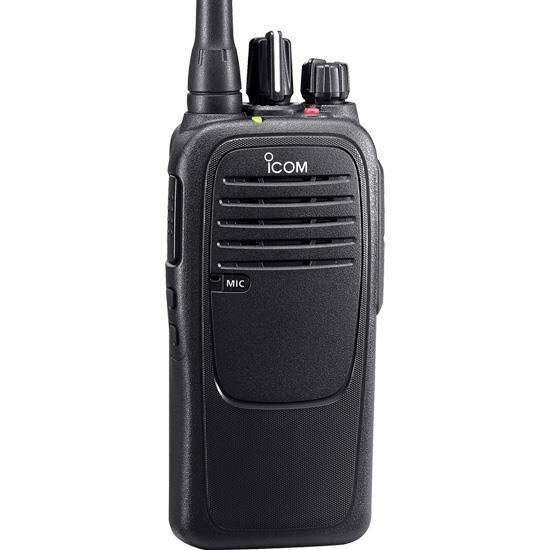 Features:
Compact size Icom 16 Channels for IC-F1000

128 Channels for IC-F1000TS/T

IP67 Waterproof and dust-tight protection

Enhanced Emergency with built-in motion sensor

Easy to hear in noising environment

inversion voice scrambler

14 hours of operating time with supplied waterproof battery (with BP279)

Quiet stand-by mode with built in 2-tone, 5-tone

CTCSS and DTCS Icom

MDC 1200 compatible

Channel announcement

8 DTMF autodial memories

"Shift key" function increases number of programmable key assignments
Specifications
Frequency coverage

136–174 MHz

Number of channels

16 channels

Type of emission

16K0F3E*/11K0F3E (USA/EXP)
16K0F3E/14K0F3E/8K50F3E (EUR)

Power supply requirement

7.5V DC nominal

Current drain(approx.)

Tx     1.3A
Rx     500 mA /77 mA

Antenna impedance

50Ω

Operating temperature range(Radio specification)

–30°C to +60°C; –22°F to +140°F (Radio specification) (USA/EXP)
–25°C to +55°C (Radio specifi cation)(EUR)

Dimensions(W × H × D; Projections not included)

52.2 × 111.8 × 24.5 mm; 2.1 × 4.4 × 1.0 in (With BP-279)

Weight (approx.)

240 g; 8.5 oz (With BP-279)

Transmitter

Output power(Hi, L2, L1)

5 W, 2 W, 1 W

Maximum frequency deviation

± 5.0 kHz (25 kHz)*, ±4.0 kHz (20 kHz), ±2.5 kHz (12.5 kHz)

Spurious emissions

70 dB minimum (USA/EXP)
0.25 μW (≤ 1 GHz), 1.0 μW (> 1 GHz) (EUR)

Frequency stability

±2.5ppm

Audio harmonic distortion

1.0% typical (25/20 kHz), 1.5% typical (12.5 kHz)   (at AF 1 kHz 40% deviation)

FM Hum and Noise(without CCITT filter)

46 dB typical (25 kHz), 40 dB typical (12.5 kHz)(USA/EXP)

Residual modulations(with CCITT filter)

50 dB typical (25 kHz), 47 dB typical (20 kHz), 44 dB typical (12.5 kHz) (EUR)

External microphone connector

3-conductor 2.5 (d) mm (1/10)/2.2 kΩ

Receiver
Sensitivity


(at 12dB SINAD)  0.25μV typical
(at 20dB SINAD)   –4 dBμV typical emf

Adjacent channel selectivity


76 dB typical (25 kHz), 53 dB typical (12.5 kHz) (TIA-603D)

78 dB typical (25 kHz) 71 dB typical (12.5 kHz) (TIA-603A)

76 dB typ. (25 kHz) , 72 dB typ. (20 kHz),53 dB typ. (12.5 kHz)EUR)


Spurious response rejection

70dB minimum

Intermodulation rejection


74 dB typical (USA/EXP)
68 dB typical (EUR)


Hum and noise (With CCITT filter)

 51 dB typical (25 kHz),45 dB typical (12.5 kHz) (USA/EXP)


Hum and noise

(Without CCITT filter) 


 52 dB typical (25 kHz), 49 dB typical (20 kHz), 46 dB typical (12.5 kHz) (EUR)

AF output power(at 5% distortion)

Internal SP    1500 mW typical (With 8Ω load)
External SP   400 mW typical (With 8Ω load)


External speaker connector


2-conductor 3.5 (d) mm (1⁄8)/8 Ω