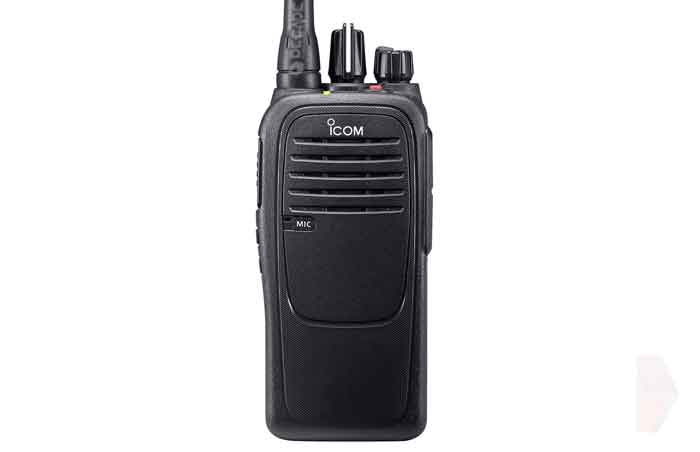 IC-F2000 Transreceiver ICOM UHF
UHF hand Set, 5Watt, waterproof durable design (IP67 and MIL-STD-810-G), Military Standard, 14 Hours of Operating Time, 128 channel capacity with eight zones , Man down and lone worker , Channel announcement, speaker for 1500 mW powerful audio Compact, Enhanced emergency safety with built-in motion/stationary detection sensor, Made In Japan
Feature:
 8 DTMF autodial memories

BIIS PTT ID and emergency call

"Shift key" function increases number of programmable key assignments

Surveillance function

Escalating alarm

Optional HM-168LWP, waterproof speaker-mic
Introduction
The IC-F1000/F2000 Series is a new compact portable radio series with convenient features such as a built-in motion sensor, channel announcement function, loud audio and a rugged waterproof & dustproof chassis. The radio is ideal for a wide range of businesses such as those involved in the education, hospitality, retail, and facility management sectors. IP67 Waterproof and Dust-tight Protection.
The IC-F1000/F2000 series has a 24.5mm slim depth with IP67 waterproof casing. The transceiver can withstand 1m depth of water for 30 minutes. Its dust-tight construction prevents the ingress of powder dust, sand, mud and other objects.


 Features:
 1500 mW large volume audio from Icom custom speaker

Improved sound clarity

Compact (52.2 × 111.8 × 24.5 mm; 2.1 × 4.4 × 1.0 in) and lightweight (240 g; 8.5 oz with BP-279)

IP67 waterproof and dust-tight protection

Tested to 12 categories of MIL-STD-810-G environmental tests

DTMF autodial memories

16-position rotary selector and ON/OFF volume knob

"Shift key" function increases number of programmable key assignments

Up to 14 hours of operating time with supplied BP-279 battery pack

Eight character alphanumeric display (Ten-keypad/simplekeypad versions)

Three color LED
Specifications
Frequency coverage


 

335–380 MHz(EXP)
400–470 MHz (ALL)
450–512 MHz (USA)
450–520 MHz (EXP)

Number of channels

16 channels

Type of emission


16K0F3E (25kHz), 14K0F3E (20kHz),




8K50F3E (12.5kHz), 4K00F1E/D (6.25kHz)



Power supply requirement

7.5V DC nominal

Current drain(approx.)

Tx

1.3A
Rx

500 mA /80 mA (Max. audio (internal SP)/Standby)

Antenna impedance

50Ω

Operating temperature range(Radio specification)

–30°C to +60°C; –22°F to +140°F (Radio specification)(USA/EXP)
–25°C to +55°C (Radio specification)(EUR)

Dimensions

(W × H × D; Projections not included)
52.2 × 111.8 × 24.5 mm; 2.1 × 4.4 × 1.0 in (With BP-279)

Weight (approx.)

240 g; 8.5 oz (With BP-279)


Transmitter

Output power(Hi, L2, L1)

4W, 2W, 1W 

Max. frequency deviation

±5.0kHz/±4.5kHz/±2.5kHz (Wide/Middle/Narrow)

Spurious emissions

70 dB minimum (USA/EXP)
0.25 μW (≤ 1 GHz), 1.0 μW (> 1 GHz) (EUR)

Frequency stability

±2.5ppm

Audio harmonic distortion(AF 1kHz 40% deviation)

1.0% typical (25/20 kHz), 1.5% typical (12.5 kHz)(at AF 1 kHz 40% deviation)

FM Hum and Noise(without CCITT filter)

46 dB typical (25 kHz), 40 dB typical (12.5 kHz)(USA/EXP)

Residual modulations

53 dB typical (25 kHz),
51 dB typical (20 kHz),
48 dB typical (12.5 kHz)(EUR)

External microphone connector

3-conductor 2.5 (d) mm (1/10)/2.2 kΩ


Receiver
Sensitivity

 (at 12dB SINAD)0.25μV typical

(at 20dB SINAD)–4 dBμV typical emf


Adjacent channel selectivity


73 dB typical (25 kHz),
56 dB typical (12.5 kHz)(TIA-603D)

74 dB typical (25 kHz),

64 dB typical (12.5 kHz)(TIA-603A)


Spurious response rejection
70dB minimum

Intermodulation rejection


73 dB typical (USA/EXP)
67 dB typical (EUR)


Hum and noise


(With CCITT filter)   49 dB typical (25 kHz),
43 dB typical (12.5 kHz) (USA/EXP)

(Without CCITT filter)
52 dB typical (25 kHz),50 dB typical (20 kHz),47 dB typical (12.5 kHz)(EUR)


AF output power(at 5% distortion)  


Internal SP     1500 mW typical (With 8Ω load)
 External SP   400 mW typical (With 8Ω load)

External speaker connector

2-conductor 3.5 (d) mm (1⁄8)/8 Ω