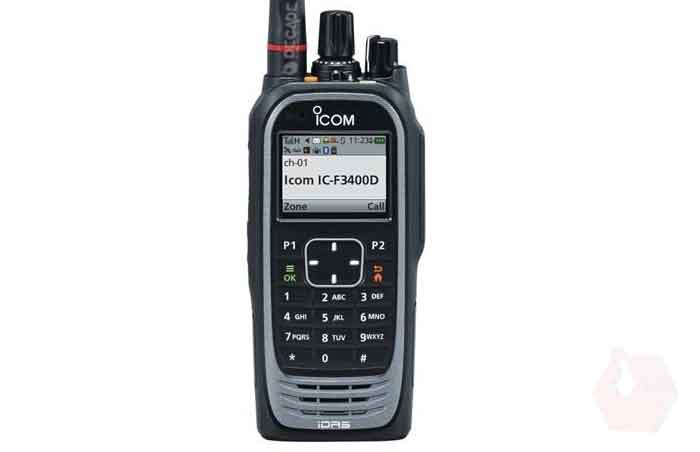 ICOM IC-F4400DT IDAS Transreceiver
Portable digital radio with 1024 channels, DTMF keypad, on range 400-480MHz, submersible, GPS and Bluetooth built in, LCD color display. Supplied with Battery, Belt Clip, Charger, and Antenna
Features:
Trunking (NXDN Type-D or dPMR Mode 3)

Multi-Site Connectivity

Voting Scan

Mix Mode Operation (NXDN Conventional and dPMR Mode 1/2)

License Key Upgrade

Over-the-Air-Programming (OTAP)

System Configuration File (SCF) (dPMR Mode 3)

Small, Slim and Smart

Color LCD and Improved User Interface

Hands-Free Operation with Bluetooth Headset

Digital Voice Recording

Vibration Alert

Multiple Languages

Voice Announcement
Introduction Product
This radios is Icom new flagship IDAS product. Dozens of new features and functions are included all in one new small form factor size. Features like SD Card, USB interface and Bluetooth appear for the first time in this land mobile product. A brilliant color display allows for easy observation of critical information, in the dimmest of light to the brightest of sunshine. Icom is the choice when you want to take your communications to the next level.

General Features:
Basic LTR / Conventional / IDAS

GPS built-in

Bluetooth built-in

Intuitive user interface

High-resolution color LCD

Digital voice recorder – record up to 500 hours with 32GB microSD card

Man down, motion detection, stationary detection, lone worker and power OFF emergency

AquaQuake

Audio equalizer
Digital features
IDAS™ conventional

IDAS single-site and multi-site Type D trunking (optional upgrade)

IDAS single-site and multi-site Type C trunking (optional upgrade)

Voting mode scanning

NXDN® Digital Air Interface

AMBE+2™ VOCODER

Individual & group selective call

Strongest site search

Over-the-Air Programming (requires software & license
 Specifications
GENERAL
Frequency range (NXDN)

380–470MHz   450–512MHz

Frequency range (dPMR)

380–470MHz

Number of channels

Number of channels
4000 channels /128 zones (Option*1 )
32 channels /2 zones (Non-display type)*2

Type of emission (NXDN)

16K0F3E*3 , 14K0F3E, 11K0F3E, 8K50F3E ,8K30F1E/D, 4K00F1E/D

Type of emission (dPMR)

16K0F3E*3 , 14K0F3E, 8K50F3E, 4K00F1E/D

Power supply requirement

7.5V DC nominal

Current drain (approx.)

Tx (High)      1.8A
Rx (Max./Standby)     580 mA (Internal SP)/140 mA

Antenna impedance

50Ω

Operating temperature range

–30 °C to +60 °C; –22 °F to +140 °F(Radio specifications)

Dimensions (W×H×D)(Projections not included)

53.6 × 123.5 × 29.3 mm;
2.1 × 4.9 × 1.2 in (with BP-284)
215 g; 7.6 oz (main unit)

Weight (approx.)

335 g; 11.8 oz335 g; 11.8 oz

Transmitter
Output power(Hi, L2, L1)(Depending on version)

5 W, 2 W, 1 W

Frequency stability

±1.0ppm

Spurious emissions

USA     80 dB typ.
EUR

0.25 μW (≤ 1 GHz), 1.0 μW (> 1 GHz)

FM Hum and noise (W/N)

60/59 dB typ.

Audio harmonic distortion(AF 1kHz 40% deviation)

0.4% typ.

0.4% typ.

1% typ. (DVN/DN)

RECEIVER
Sensitivity

12dB SINAD    0.23 μV typ.
 20 dB SINAD (W/N)    –5.0/–2.0 dBμV emf typ.
1% BER (DVN/DN)1% BER (DVN/DN)    –4.0/–4.0 dBμV emf typ.

Adjacent channel

(W/N)     75/72 dB typ.
(DVN/DN)     66/66 dB typ.

Spurious response rejection

76 dB typ.

Intermodulation rejection

Analog  (USA)   74 dB typ.
Analog (EUR)   68 dB typ.
DVN/DN          3 dBμV emf typ.   –41 dBm typ.

Audio output power

Internal SP(With 8 Ω load)         1300 mW typ. (at 5% distortion)
External SP(With 8 Ω load)      1000 mW typ. (at 5% distortion)