Suzuki OutBoard Engine 115 |DF115ATL|Black
The Suzuki DF115A is perfect for all kinds of freshwater boats, inshore boats and even offshore fishing boats. Bottom line, you won't find more power, more advanced technology or a more compact package anywhere.
Features:
Multi Point Sequential Electronic Fuel Injection

Suzuki Lean Burn Control System

Two-Stage Gear Reduction System

Offset Driveshaft

Over-Rev. Limiter

Low Oil Pressure Caution

Fully Transistorized Ignition

Timing Chain

Fresh Water Flushing System

Power Trim and Tilt

Tilt Limit

Speedometer Pickup of Gear Case

Suzuki Anti-Corrosion System
 Suzuki DF115A 

This is perfect for all kinds of freshwater boats, inshore boats and even offshore fishing boats. Bottom line, you won't find more power, more advanced technology or a more compact package anywhere.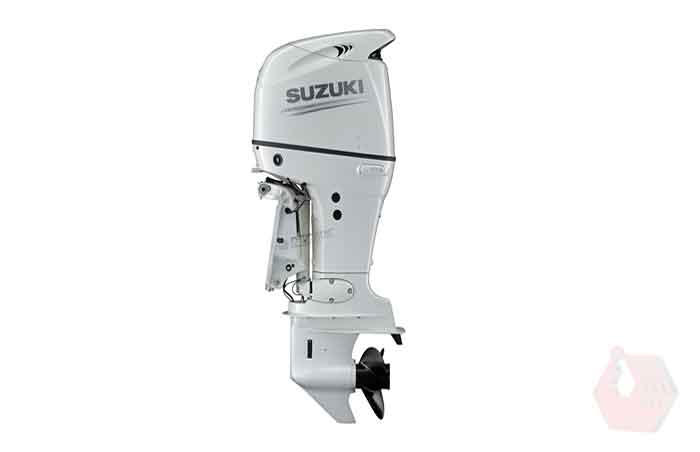 Maximizing Fuel Economy and Performance
With the launch of the new generation DF115A our engineers have delivered a trio of outboards that offer great fuel economy without sacrificing on performance. This has been achieved by employing our advanced Lean Burn Fuel Control System.

Transferring Power Into Speed

Our in-line four cylinder outboards utilize aggressive gear ratios that enable these outboards to swing a larger prop. The combination of a large prop and lower gear ratio delivers plenty of torque, exhilarating acceleration and exciting top-end speed.

All Torque

With acceleration and manoeuvrability high on the list of priorities it is no surprise that the DF140, with its excellent power to weight ratio, was one of the models selected for use at the London 2012 Olympic & Paralympic Games Sailing Regatta.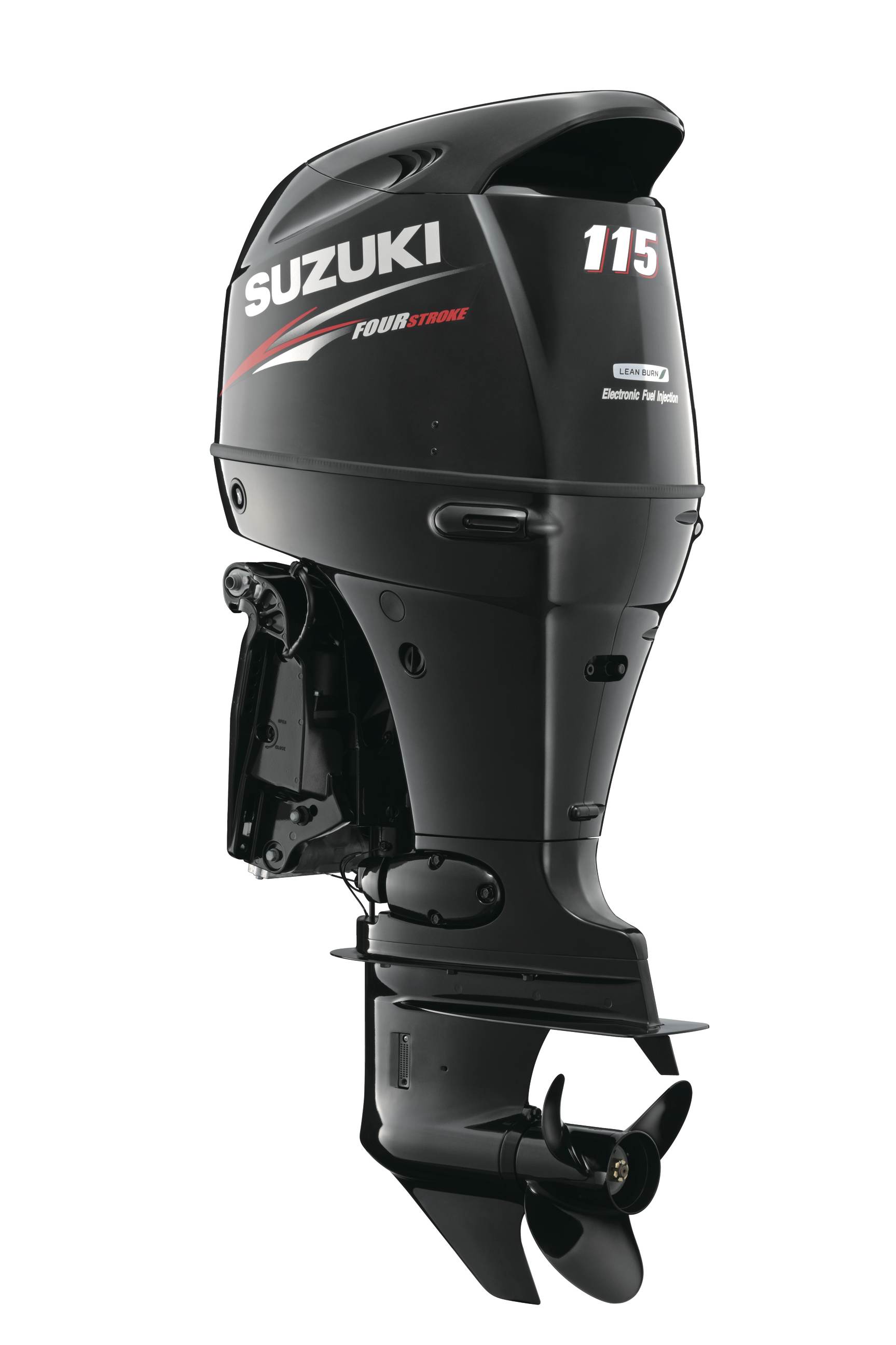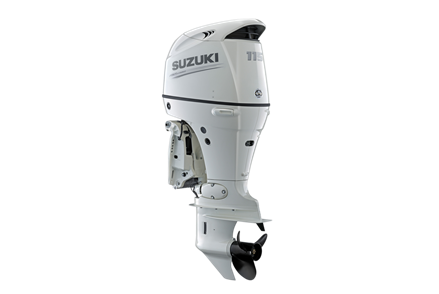 Innovative Technology
The DF115A include an O2 Sensor Feedback System that helps to keep emissions cleaner and more stable. In addition to this the DF115A also benefit form a knock sensor that detects and controls abnormal combustion allowing the engine to operate at optimum performance.


Cleaner, More Efficient Operation
Suzuki utilizes a number of its advanced technologies to deliver cleaner, more efficient operation that conforms to the Recreational Craft Directive (RCD) – Directive 2003/44EC of the European Parliament and of the Council, and has received three-star ratings from the California Air Resources Board (CARB).

Powerful


Fuel Efficient

Reliable


 Innovative



Maximizing Fuel Economy, Maximizing Performance
Recognizing a need for more fuel-efficient outboards, Suzuki developed and introduced its innovative Suzuki Lean Burn Control System on the DF90A/80A/70A outboards, which received great acclaim from boaters and the media alike. The system predicts fuel needs according to operating conditions allowing the engine to run on a more efficient fuel mixture through the use of a lean air to fuel ratio. Its benefits are delivered over a wide operating range providing significant improvements in fuel economy from low-speed operation up into the cruising range. In-house testing shows that while cruising, the DF140A is 14% more economical than its predecessor without sacrificing any of the original DF140's power.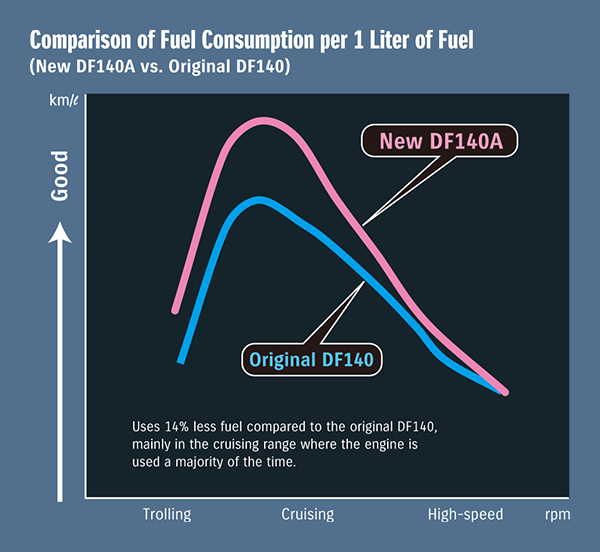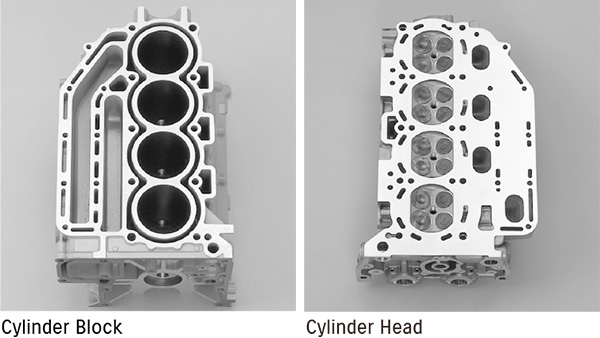 DOHC 4-Valve Engine
Suzuki has a long history of designing and manufacturing engines for motorcycle, automobile, and marine use. Drawing upon this unrivaled experience Suzuki engineers have designed an in-line four cylinder engine that delivers high power output, high performance, excellent fuel economy, and efficient operation. With a displacement of 2,044cm3, the in-line four-cylinder block is topped with a high performance 16-valve, dual overhead cam (DOHC) powerhead.

Obtaining Maximum Performance
The DF 115A utilize an enhanced air intake system that maximizes airflow into the engine to obtain greater power output. In order for this system to achieve full potential, greater exhaust efficiency is required as well, so the engines are designed with an efficient "4 into 2 into 1" exhaust system that reduces drag in the exhaust letting it flow smoothly out of the cylinders. This design increases low to mid-range torque on these outboards and provides the wide powerband that boaters want.
The DF 115A also feature a two-stage reduction gear that delivers the torque needed to turn a large diameter propeller. This is normally done using larger gears or a larger gearbox, but Suzuki has long employed a two-stage system that provides the required torque without adding unwanted bulk or weight to the engine. With a final drive ratio of 2.59, these outboards produce plenty of torque for quick acceleration.
Both models also feature a two-stage reduction gear that delivers a larger gear ratio of 2.59. On the drive shaft, the first stage reduction delivers a ratio of 1.24 while the second stage, in the gear case itself, delivers a further reduction of 2.08. The biggest gain this system delivers is in its capability to use a highly efficient, large pitch, large diameter propeller.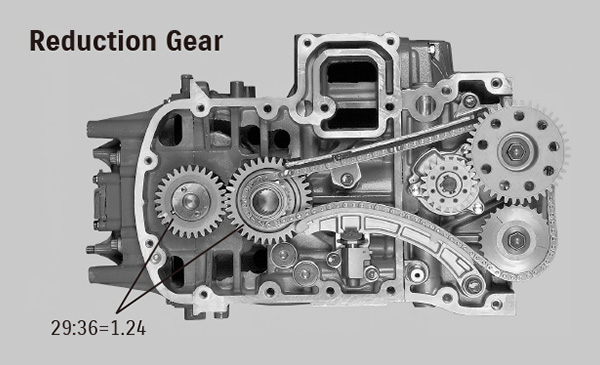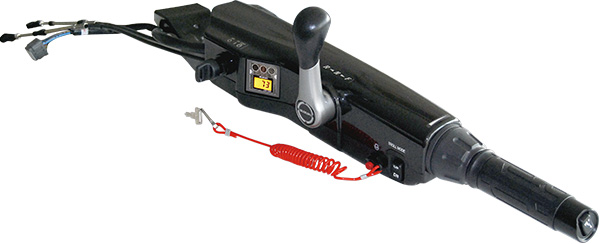 Multi Function Tiller Handle (Optional)
Available on the DF115A , Suzuki's Multi-Function Tiller handle is ergonomically designed using computer modeling to simulate the operator's body, arm, and eye movements to optimize placement of the shift lever, switches, and indicator and provide easier, more comfortable control of the outboard. The shift lever is also ergonomically designed to provide a comfortable feel whether it's operated with the left or right hand. The power trim and tilt switch is located on the handle grip allowing simultaneous operation of the throttle and trim and the handle also incorporates a Suzuki Troll Mode System switch.

Suzuki Water Detecting System
Water in the fuel can lead to problems that include poor combustion, lower power output, and corrosion. The Suzuki Water Detecting System is designed to help protect the engine from moisture in the fuel utilizing a water detecting fuel filter to alert the operator with both visual and audio warnings when water is present in the fuel. The filter also designed to let you check for water visually.

Suzuki Troll Mode System (Optional)
The Suzuki Troll Mode System is optionally available on all three outboards. This system provides finer control over engine speed at low rpms keeping the boat moving at a steady speed while trolling. When the system is engaged, engine speed is controlled with an independent control switch that adjusts engine revs in 50rpm increments over a range that spans from idle to 1,200rpm. In addition to the control switch, which can be mounted nearly anywhere on the console, the system includes a tachometer and is compatible with Suzuki's SMIS digital gauges or the dual scale analog gauges.

Some of the other system used are:
O2 Sensor Feedback Control System
Like Suzuki's flagship DF300AP, the 115A feature an O2 Sensor Feedback Control system that keeps emissions cleaner and more stable. By controlling the air to fuel ratio across each of the engine's operating ranges, the system provides an optimum amount of fuel to the engine regardless of rpm.

 Knock Sensor (115A)
The DF140A is Suzuki's first four-cylinder outboards featuring a knock sensor. Found on some V6 models, this system is used to detect and control abnormal combustion allowing the engine to operate at optimum performance. The system increases engine durability and helps deliver maximum power.

Multi-Point Sequential Electronic Fuel Injection
Multi-Point Sequential Electronic Fuel Injection is Suzuki's sophisticated fuel injection system found on Suzuki outboards from the DF40A to DF 300A. The system uses a 32-bit computer in the electronic control unit to monitor vital operating data gathered from a series of sensors located in critical areas on the engine.

SPECIFICATIONS
| | |
| --- | --- |
| MODEL | DF115A *3 |
| RECOMMENDED TRANSOM HEIGHT mm | L: 508, X: 635 |
| STARTING SYSTEM | Electric |
| WEIGHT kg *1 | L: 182, X: 187 |
| ENGINE TYPE | DOHC 16-Valve |
| FUEL DELIVERY SYSTEM | Multi-Point Sequential Electronic Fuel Injection |
| NO. OF CYLINDERS | 4 |
| PISTON DISPLACEMENT cm3 | 2,044 |
| BORE ×STROKE mm | 86 x 88 |
| MAXIMUM OUTPUT kW | 84.6 |
| FULL THROTTLE OPERATING RANGE rpm | 5,000-6,000 |
| STEERING | Remote |
| OIL PAN CAPACITY Lit. | 5.5 |
| IGNITION SYSTEM | Fully-transistorized |
| ALTERNATOR | 12V 40A |
| ENGINE MOUNTING | Shear Mount |
| TRIM METHOD | Power Trim and Tilt |
| GEAR RATIO | 2.59:1 |
| GEAR SHIFT | F-N-R |
| EXHAUST | Through Prop Hub Exhaust |
| PROPELLER SELECTION | Pitch)*2 |
| All propellers are the 3-blade type | 15"-25" |