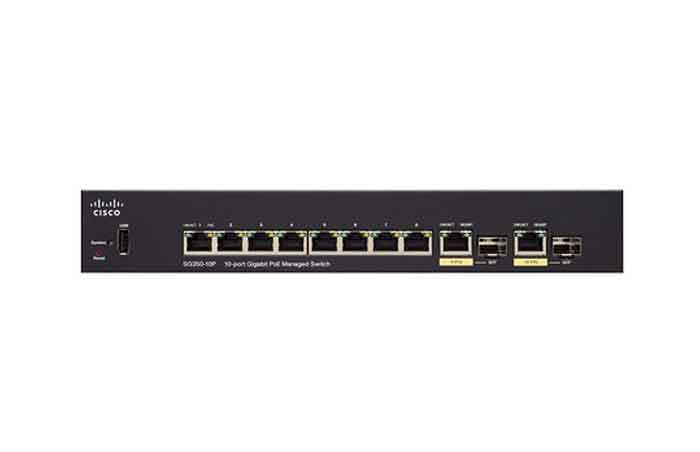 Cisco SG350-10P(Switch)
---
CISCO SG350-10P Managed Switch with 10 Gigabit Ethernet (GbE) Ports with 8 Gigabit Ethernet RJ45 Ports and 2 Gigabit Ethernet Combo SFP plus 62W PoE, Limited Lifetime Protection
---
Terms and Conditions
30-day money-back guarantee
Shipping: 2-3 Business Days
Product Description
The switch can have multiple IP addresses and can be configured either on a port, a Link Aggregation Group (LAG), a Virtual Local Area Network (VLAN), or a loopback interface. If a switch does not have a Dynamic Host Configuration Protocol (DHCP) server then the IP address needs to be assigned statically. The switch routes traffic between the directly-attached IP subnets configured on the device and continues to bridge traffic between devices in the same VLAN. Traffic is routed by the device in layer 3 mode.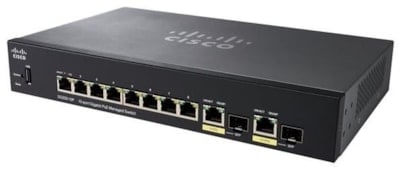 Features:
Simple-to-use graphical interfaces reduce the time required to deploy, troubleshoot, and manage the network and allow you to support sophisticated capabilities without increasing IT head count.

The switches also support Textview, a full command-line interface (CLI) option for partners that prefer it.

Using Auto Smartports intelligence, the switch can detect a network device connected to any port and automatically configure the optimal security, quality of service (QoS), and availability on that port.

Cisco Discovery Protocol discovers Cisco devices and allows devices to share critical configuration information, simplifying network setup and integration.

Support for Simple Network Management Protocol (SNMP) allows you to set up and manage your switches and other Cisco devices remotely from a network management station, improving IT workflow and mass configurations.

The Cisco FindIT utility, which works through a simple toolbar on the user's web browser, discovers Cisco devices in the network and displays basic information, such as serial numbers and IP addresses, to aid in configuration and deployment.
Specifications
| | |
| --- | --- |
| Product Name | SG350-10P |
| Device type | Switch - 1 G - 10 ports |
| Enclosure type | Compact - 1U |
| Ports | 8 x 10/100/1000 + 2 x combo Gigabit SFP |
| Power over Ethernet (PoE) | PoE+ (8 ports, 62 W) |
| Performance Switching capacity | 20 Gbps ? Forwarding performance (64-byte packet size) : 14.88 Mpps |
| Capacity | 4096 active VLANs |
| Jumbo frame | Yes |
| Remote management protocol | SNMP 1, RMON 1, RMON 2, RMON 3, RMON 9, Telnet, SNMP 3, SNMP 2c, HTTP, HTTPS, TFTP, SSH, CLI |
| RAM | 512 MB |
| Flash memory | 256 MB flash |
Switch Port Description