IC-9100 ICOM all Band Transreceiver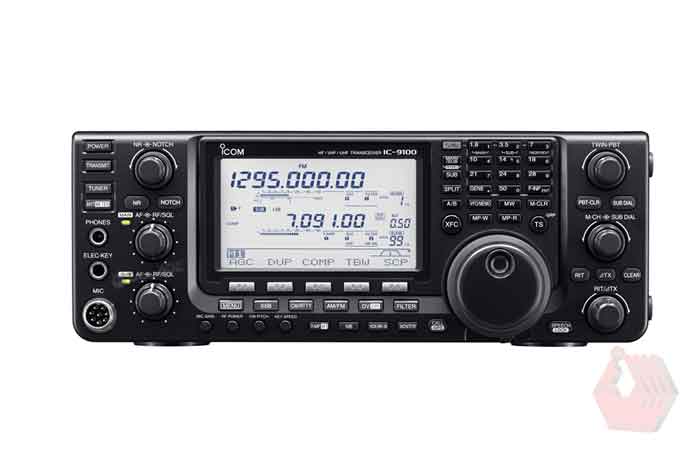 IC-9100 ICOM all Band Transreceiver
---
The IC-9100 contains years of advanced Icom technology in a compact, all-in-one HF/VHF/UHF transceiver. This radio covers most ham bands and modes, and provides a wide variety of operating styles. Whether you're working DX QSO, RTTY, D-STAR DV, satellite or even moonbounce.
---
Terms and Conditions
30-day money-back guarantee
Shipping: 2-3 Business Days
Introduction
The IC-9100 all-in-one HF/VHF/UHF transceiver covers not only HF, 6M, 2M, 70cm and 23cm Amateur radio bands, but also a variety of operating modes including SSB, CW, AM and FM. It also features dual band simultaneous reception, satellite mode operation and RTTY decode on the display.
One of the most exciting features of this model is that it is capable of D-STAR (Digital Smart Technology for Amateur Radio) DV (Digital voice) mode operation above the 10M band. The D-STAR DV mode allows simplex, repeater, Internet linking between repeaters, operation with low speed data messaging, GPS position reporting and other data communications capability.
Icom has also engineered into this advanced model a combination of its IF DSP and double conversion system technology providing performance comparable to Icom's range of high tier HF/6M transceivers.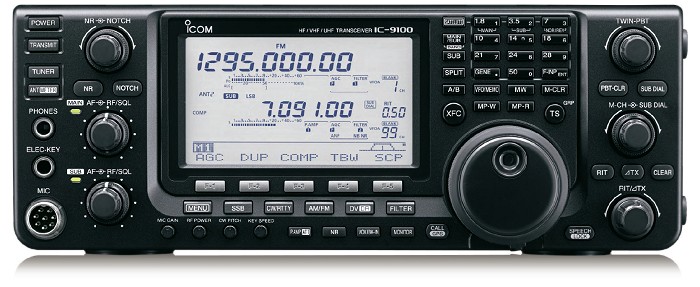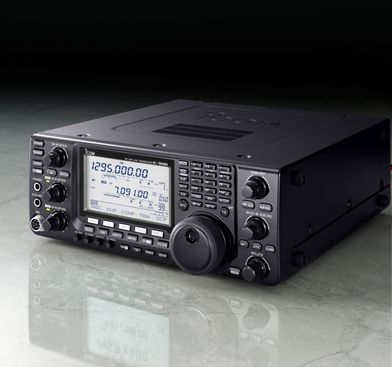 Features:
Dual reception

High Performance DSP

Excellent selectivity

High output power

High audio quality

Satellite communications

Very fast ATU and improved stability in HF

4 memories digital Keyer

GPS

1200 MHz extension available

User manual available both in English and French
Specifications
| | |
| --- | --- |
| Brand | ICOM |
| Manufacturer's Part Number | IC-9100 |
| Part Type | Base Transceivers |
| Product Line | ICOM IC-9100 HF/VHF/UHF Transceivers |
| DXE Part Number | ICO-IC-9100 |
| UPC | 0731797009289 |
| FCC License Required to Transmit | Yes |
| Internal HF Antenna Tuner | Yes |
| Receive Range 1 | 0.030-60.000 MHz |
| Receive Range 2 | 136.000-174.000 MHz |
| Receive Range 3 | 420.000-480.000 MHz |
| Receive Range | 1,240.000-1,320.000 MHz |
| Receive System | Dual receiver |
| Dual Watch | Yes |
| Roofing Filter Capability | Yes |
| Roofing Filter Bandwidth | 15/6/3kHz |
| Third Order Intercept (IP3) | Over 30 dBm |
| Transceiver Power Supply | External, not included |
| Transceiver Input Voltage | 13.8 Vdc |
| Transceiver Maximum Current | 24.0 A |
| Antenna Ports | 5 |
| Dedicated Receive Antenna Input | Yes |
| Computer Connection Type | USB or CI-V interface |
| Digital Mode Audio Input/Output | USB, 6-pin mini-DIN, or 13-pin DIN |
| External Display Capability | No |
| Voice Synthesizer Capability | Yes |
| Hand Microphone Included | Yes |
| Radio Width | 12.406 in. |
| Radio Height | 4.563 in. |
| Radio Depth | 13.500 in. |
| Weight | 24.200 lbs. |