IC-A16 Transreceiver ICOM Airband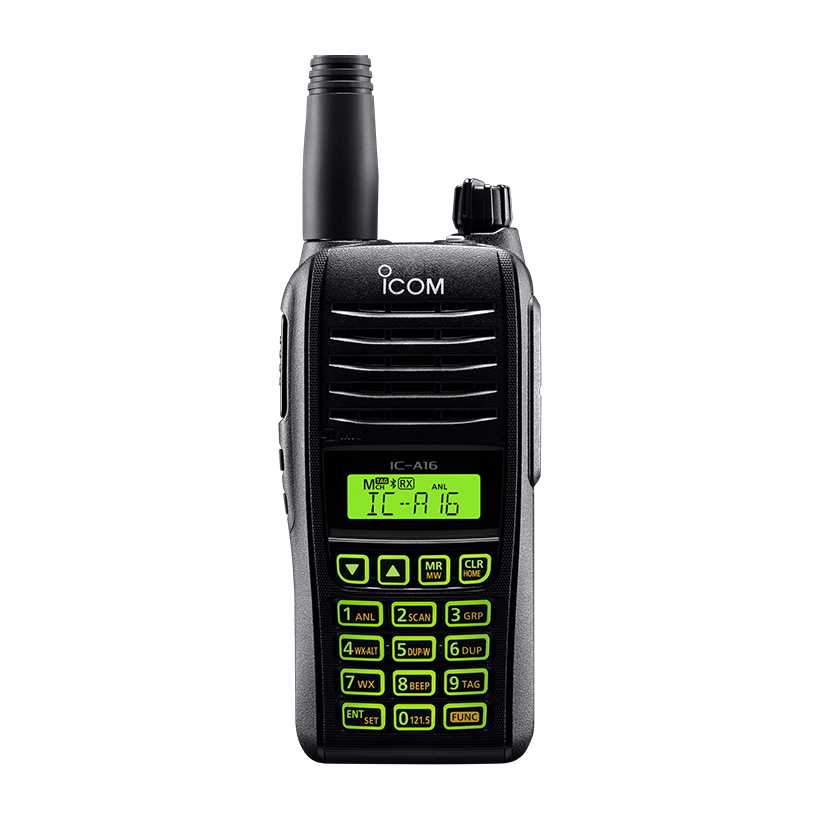 IC-A16 Transreceiver ICOM Airband
---
8.33/25 kHz Ground to Air Radio with Class Leading 1500 mW Powerful Audio
---
Terms and Conditions
30-day money-back guarantee
Shipping: 2-3 Business Days
Introduction
The A25 series is a powerful air band handheld with 6 watts of power and an IP57 waterproof rating; weather cannot stop these radios. The handheld includes a large 2350mAh Li-ion battery, providing a long operating time. The easy-to-use interface and large 2.3-inch LCD display combine to provide stress-free programming and in-flight operation. The A25's large 2.3-inch LCD provide user-friendly, graphic screens. The day mode allows pilots to view the screen in direct sunlight and the night mode makes it easy to read in the dark. Built-in GPS and Bluetooth redefined navigation in the A25N. Design flight plans with an Android or iOS device and import them into the A25 with the Bluetooth feature. While using GPS, the waypoint NAV will guide pilots to their destination. Up to 10 flight plans and 300 waypoints can be stored in the A25. Other navigational features, like VOR indicators, can help keep a pilot's heading precise and alert them if they divert from course. All these functions and more increase safety up in the air.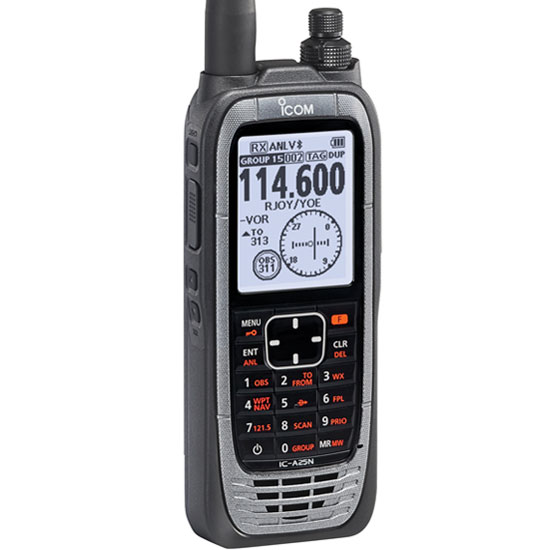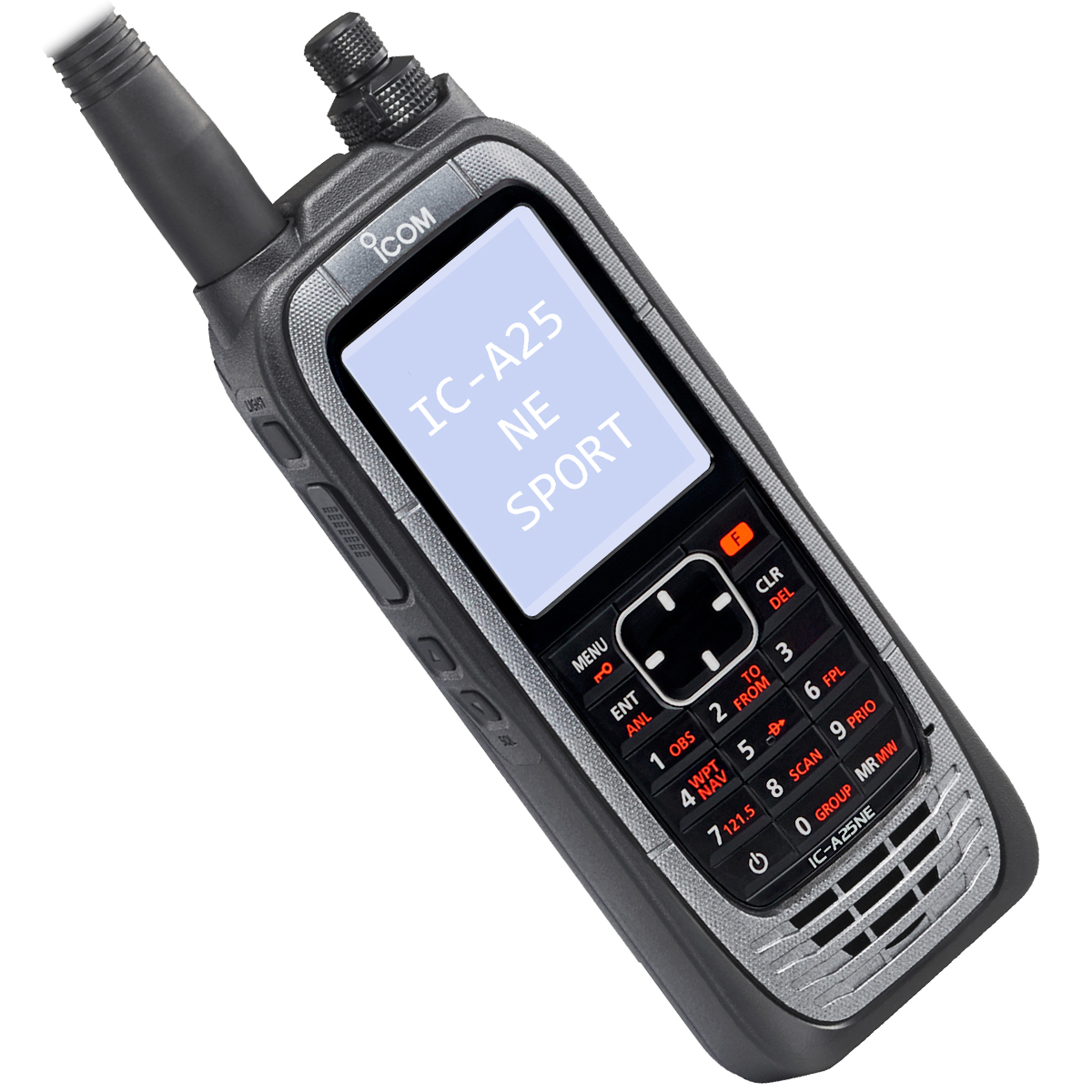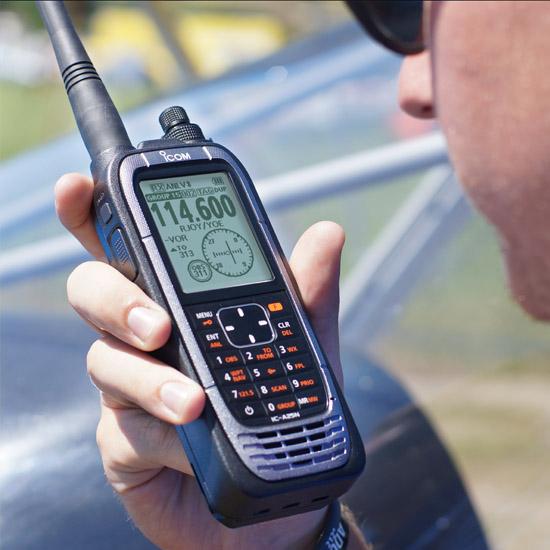 Features:
IC-A25NEIC-A25NE 8.33kHz/25kHz VHF COM/NAV Airband Radio
The IC-A25NE is the latest development in airband radio technology featuring built-in Bluetooth, GPS and significant VOR navigation functions. Featuring 6 watts of output power, this stylish modern design, easy-to-use interface and large 2.3-inch LCD combine to provide stress-free programming and easy in-flight operation. The handheld includes a large 2350mAh Li-ion battery, providing longer operating time.
6 Watts High RF Output Power
For expanded communication coverage, output power has been increased to approximately 6 W typical (PEP) 1.8 W (carrier) compared to the IC-A24E (5/1.5 W (PEP/carrier)).
Easy-To-Use Interface
Often used functions are assigned to the ten-key pad and you can directly access the desired function. The enlarged flat sheet keypad offers smooth and swift operation.
2.3-inch Large High Visibility LCD

The large, high contrast and highly visible LCD display user-friendly, graphic screens and ensures good readability under sunlight. The operating frequency in large characters can be recognized at a glance. Also, the night mode option allows for easy viewing in low light conditions.
"Flip-Flop" Channel Recall
The IC-A25NE stores the last ten channels used. You can easily recall those channels by using the directional keys or the channel knob or the keypad. This is convenient for switching between several channels, such as NAV and COM channels. You can also freely edit (replace, delete, and change order) the stored recall channels.
Built-in Bluetooth for Hands-Free Operation
Hands free operation can be achieved when paired with a compatible third-party wireless Bluetooth headset. When using the optional VS-3 Bluetooth headset, the sidetone function can be used.
Intelligent Battery with Detailed Battery Information
The supplied BP-288, 2350 mAh typical intelligent battery pack, provides up to 10.5 hours* of operating time. You can check the condition of the battery pack in the battery status screen. This is very useful for optimum charging and battery health maintenance.
Specifications
NAV and/or COM

COM channels only

Frequency range

Tx: 118.000-136.975 MHz
Rx: 118.000-136.975 MHz

RX (Weather)

161.650-163.275 MHz

Number of memory channels

300 channels/15 groups

Channel spacing

8.33/25 kHz

Type of emission

6K00A3E, 5K60A3E, 16K0G3E (Weather)

Current drain (approximately)

Tx High: Less than 1.8 A
Rx Max. audio/Stand-by: Less than 500 mA/90 mA typ.

Antenna impedance

50 Ω

Operating temperature range

–10°C to +60°C; 14°F to 140°F

Dimensions (W×H×D) (Projections not included)

2.3 × 5.8 × 1.3 in, 58.9 × 148.4 × 31.8 mm

Durable

Mil-STD-810-C, -D, -E, -F, -G


Receiver:

Intermediate frequencies

46.35 MHz/450 kHz (1st/2nd)

Sensitivity


NAV/COM (6 dB S/N): Less than 0 dBμ
WX (12 dB SINAD): Less than –8 dBμ


Squelch sensitivity (at threshold)

Less than 0 dBμ (AM), Less than –5 dBμ (FM)

Audio output power

More than 350 mW typ. (8 Ω load/60% Mod. at 10% distortion)

Hum and noise

More than 35 dB (at 30% modulation)

Spurious response

 More than 60 dB (AM), More than 30 dB (FM)

Hum and noise

More than 40 dB (at 90% modulation)

Audio output power

More than 350 mW typ. (8 Ω load/60% modulation at 10% distortion)

Ext. speaker connector

3-conductor 3.5 (d) mm (1⁄8ʺ)/8 Ω