Mimosa B5
---
5 GHz, 25 dBi, 1Gbps capable PTP backhaul with GPS Sync, integrated antenna, includes PoE Injector 56V
---
Terms and Conditions
30-day money-back guarantee
Shipping: 2-3 Business Days
Gigabit Backhaul Made Easy

B5 Point-to-Point Backhaul Radio 5.15–5.87 GHz

The Mimosa B5 backhaul radio is, hands down, the easiest to use and highest capacity unlicensed 5 GHz backhaul solution for short and mid-range link applications. It's ideal for collocation applications, relay sites, and building-to-building settings.
*Approximately 0 to 10km, distances and speeds may vary due to local regulatory restrictions
APPLICATIONS

Building to Building

Relay Sites

Tower and Collocation Sites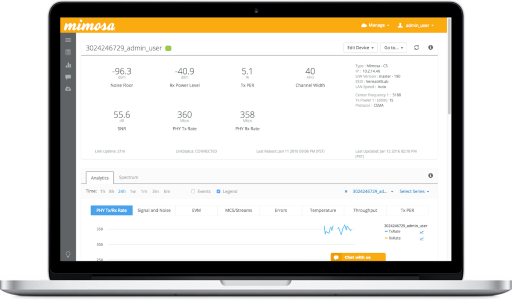 MONITOR WITH EASE, AND SO MUCH MORE
 Immediately after install, your links are ready to be monitored via the free Mimosa Cloud service. With vast data collection and analysis, assessing link health and identifying potential problems has never been easier.
EASILY ADD NEW LINKS
Typical backhaul solutions waste spectrum with every link installed and impacting network capacity. Unique high precision GPS Sync technology allows Mimosa B5 and B5c products to reuse the same channel network wide, and up to 4 links can auto-coordinate.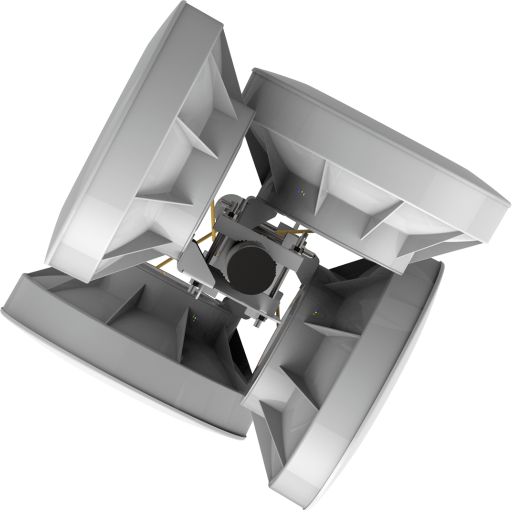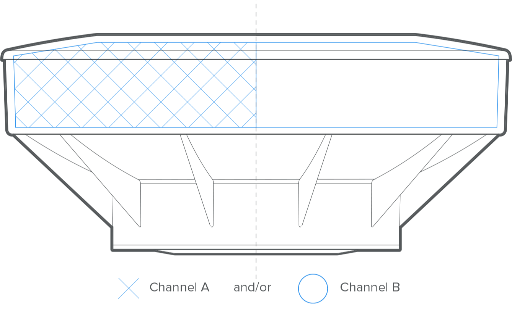 DOUBLE RELIABILITY
Unlicensed spectrum can be unpredictable. So Mimosa custom engineered unique multi-channel and auto-everything technology to protect your links when you encounter interference. The B5 and B5c automatically keep your links up with two independent operating channels, and adapting using our auto-everything technology to resolve problems proactively to deliver optimal link speed and reliability. It's like 2 smart links in a single radio!

JUST MOUNT AND GO
The integrated high gain antenna, and super easy quick mount lets you install the B5 in minutes, and accurately aim it with your smartphone via Wi-Fi.‡

INCREDIBLY FAST. INCREDIBLY FLEXIBLE.
Awarded the fastest unlicensed backhaul in the industry, the B5 and B5c also provide extensive bandwidth control options. Dynamic modes automatically adapt with traffic demand and provide ultra low ~1ms link latency for sensitive voice and video communications services. While reserved bandwidth and GPS sync modes allow symmetric or 75/25 traffic direction reservation.

Performance

Max Throughput
Up to 1.5 Gbps IP aggregate UL/DL (1.7 Gbps PHY)
Low Latency
< 1 ms in Auto Mode
Wireless Protocols
TDMA, TDMA-FD, AUTO TDMA
Radio
MIMO & Modulation
4x4:4 MIMO OFDM up to 256QAM
Bandwidth
Single or Dual 20/40/80 MHz channels
Frequency Range
5150-5875 MHz restricted by country of operation (*new* US/FCC 5600-5650 support)
Max Output Power
30 dBm (2-stream), 27 dBm (4-stream)
Sensitivity ( MCS 0 )
-87 dBm @ 80 MHz
-90 dBm @ 40 MHz
-93 dBm @ 20 MHz
Antenna
Gain
25 dBi
Beamwidth ( 3dB )
8° ( HPOL and VPOL )
Elevation Adjust
± 20° mechanical adjust
Front-to-Back Ratio
>30 dB
Cross-Polar Isolation
>20 dB
Polarization
Dual-Linear (horizontal & vertical)
Power
Max Power Consumption
20W
System Power Method
48 V DC 802.3 at compliant power injectors
System Lightning & ESD Protection
6 kV
PoE Power Supply
Passive POE compliant, 48-56 V Power over Ethernet supply with IEC61000-4-5 surge protection
Physical
Dimensions
Diameter: 442 mm (17.4")
Depth: 362 mm (14.3") with bracket
Weight
4.9 kg (10.8 lbs) with bracket
Enclosure Characteristics
Single enclosure with radome
Outdoor UV stabilized plastic
Painted steel bracket plate
Wind Survivability
200 km/h (125 mph)
Wind Loading
39 kg @ 160 km/h (86 lbs @ 100 mph)
Mounting
Pole mounting kit included for 30mm (1.18") to 90mm (3.54") OD pipes
Environmental
Outdoor Ingress Protection Rating
IP67
Operating Temperature
-40°C to +55°C (-40°F to 131°F)
Operating Humidity
5 to 100% condensing
Operating Altitude
4420 m (14500') maximum
Shock & Vibration
ETS 300-019-2-4 class 4M5
Features
Gigabit Ethernet
10/100/1000-BASE-T
Dual Link Operation
2 independent dual-stream radios operating on non-contiguous frequencies Automatic load balancing of traffic across 4 total MIMO streams with individual stream encoding up to 256 QAM
Management Services
Mimosa cloud monitoring and management SNMPv2 & Syslog legacy monitoring HTTPS HTML 5 based Web UI
2.4 GHz 802.11b/g/n radio for local management access
Smart Antenna Alignment
Hands-Free dedicated 2.4 GHz Wi-Fi management radio
Smart Spectrum Management
Active scan monitors/logs ongoing RF interference across channels (no service impact)
Dynamic auto-optimization of channel and bandwidth use
Security
128-bit AES PSK with hardware acceleration
QoS
Supports 4 pre-configured QoS levels
GPS Location
GNSS-1 (GPS + GLONASS)
Colocation Synchronization
1PPS GPS TX/RX synchronization for colocated co-channel radios Adjustable up/downstream bandwidth ratio
Regulatory & Compliance
Approvals
FCC Part 15.407, IC RSS210, CE,
ETSI 301 893/302 502
Other National Regulations
RoHS Compliance
Yes
Safety
UL/EC/EN/ 60950-1 + CSA-22.2
Contact bishnu@decadeint.com for more details.