OutBoard Engine 200 HP-4 Stroke Suzuki DF200A
OutBoard Engine 200 HP-4 Stroke Suzuki DF200A
---
The NEW DF200A Four-Cylinder delivers the kind of impressive performance you expect only from a V6 Engine – But from just four cylinders, meaning it is much lighter and more efficient.
---
Terms and Conditions
30-day money-back guarantee
Shipping: 2-3 Business Days
Introduction
The NEW DF200A Four-Cylinder delivers the kind of impressive performance you expect only from a V6 Engine – But from just four cylinders, meaning it is much lighter and more efficient.
Suzuki's NEW DF200A inline four-cylinder outboard motor stands to redefine lightweight outboard performance and fuel economy by delivering advanced features, enhanced reliability and impressive power on par with a V6 engine. At just 226kg, the new DF200A is more than 12% lighter than Suzuki's V6 DF200. Even so, it produces the same 147kW (200PS) of power to offer boaters the choice of a lighter, leaner, more compact solution that comes without any compromises.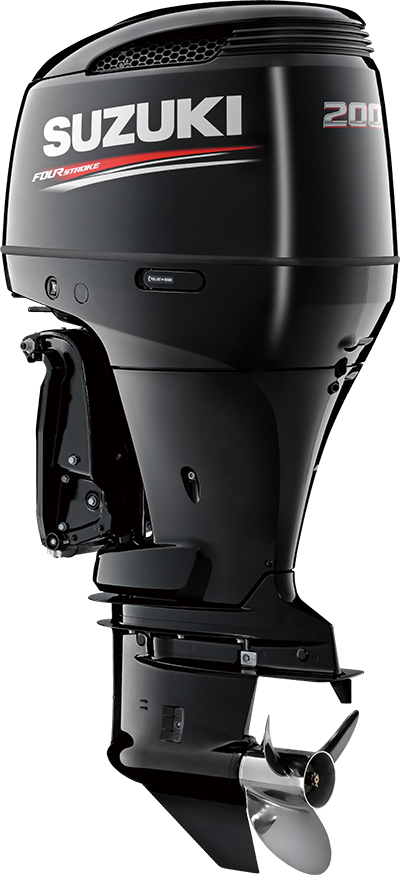 A POWERFUL ADVANTAGE
Get the advantage of the most advanced 4-stroke outboard technology in the industry with features like; Multi-Stage Induction, Variable Valve Timing, and a powerful 32-bit Electronic Fuel Injection computer working together to optimize low- and top-end torque. The industry's narrowest V block which offers a well-balanced design that fits today's boats. Also, two-stage gear reduction with the lowest gear ratio in its class for marvelous acceleration and top-end speed.
SLIM AND COMPACT DESIGN
Our exclusive 55-degree V block and proven offset driveshaft give Suzuki's V6 4-strokes a narrow, compact design that is the perfect fit for a wide range of today's most popular boats. This design moves the center of gravity forward for better balance and less vibration.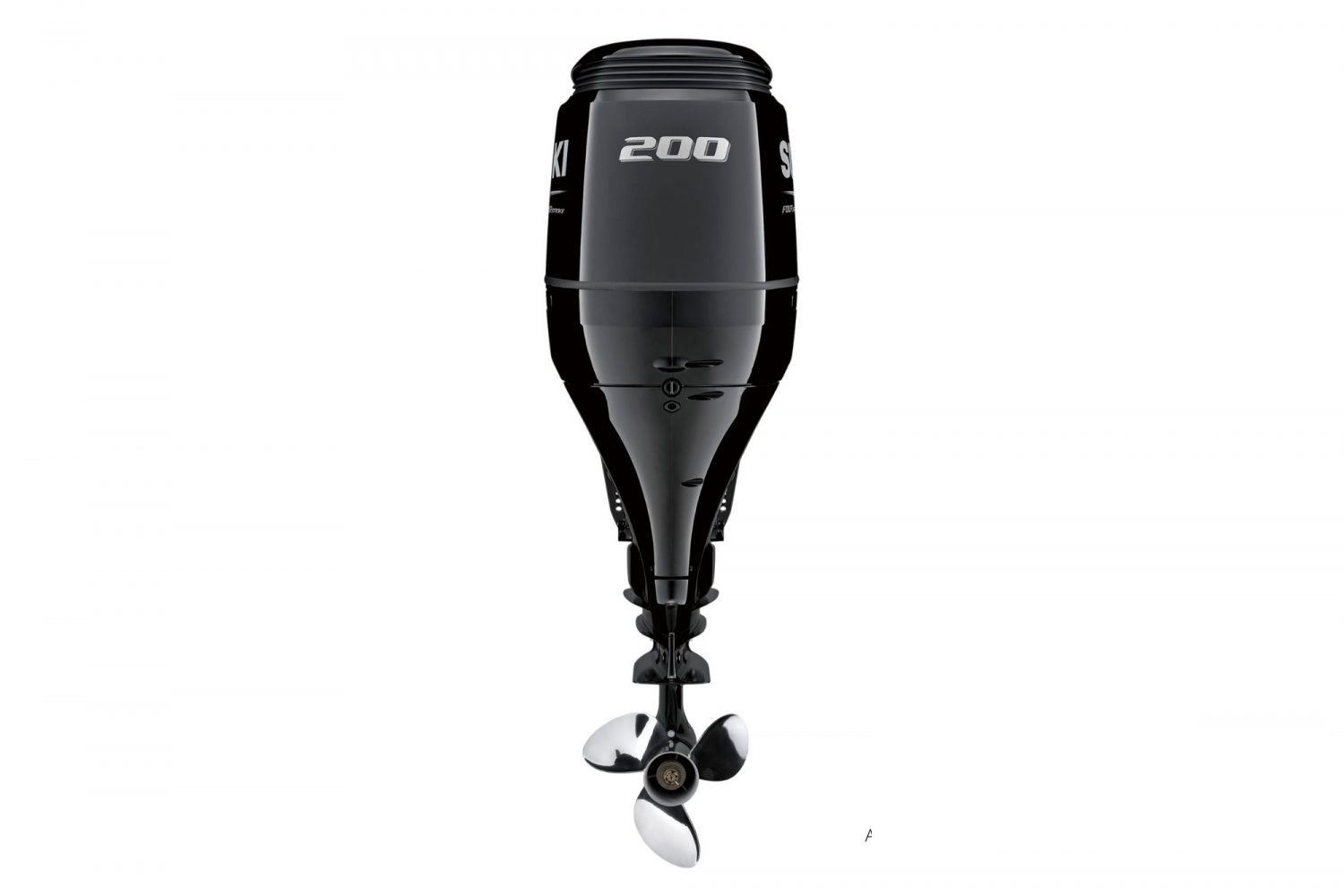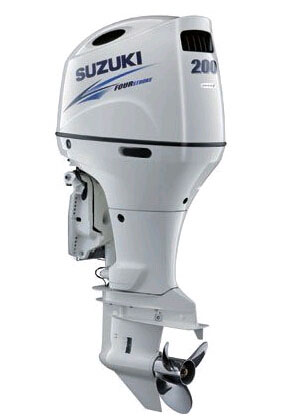 POWER IN AN INSTANT
With our 3.6-liter displacement computer controlled electronic fuel injection and powerful 2.29:1 final drive gear ratio, the DF250, DF225, and DF200 deliver maximum torque across the powerband. You'll always have plenty of power the moment you ask for it. And our high-output 54A alternator provides plenty of electrical power for electronics.
WHEN ONLY THE BEST IS GOOD ENOUGH
Our flagship V6 range provides the perfect power for both leisure and commercial craft. As part of our sole supplied agreement with the London 2012 Olympic and Paralympic Games Sailing Regatta, the DF200 was one of the models used to power support boats.
AWARD WINNING TECHNOLOGY
This was Suzuki's fourth Innovation Award and proof that Suzuki leads the way in fuel-injected 4-stroke outboard motors.
SEMI-DIRECT AIR INTAKE SYSTEM
The cover on the new DF200A has a modern upswept design giving it an innovative look. Underneath the looks though, the design is all about function. Incorporated into the cowl is a semi-direct air intake system that delivers cooler air directly to the engine's tuned multi-stage induction module. Engines breathing cooler air are able to increase operating efficiency resulting in greater acceleration and top-end speed. The cover's design also helps reducing the temperature inside of the engine with ports that allow the rotating flywheel to push warm air inside of the cover to the outside.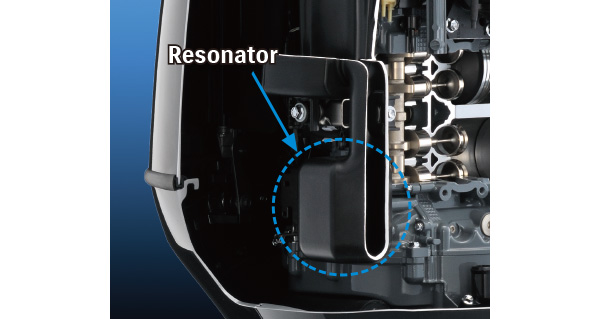 RESONATOR
The engine's exhaust system is a well-known source of engine noise, but another, often overlooked source is the intake manifold. Air being sucked into the intake manifold at high velocities can generate a harsh sound. The DF200A incorporates an air intake resonator that reduces such noise keeping operation exceptionally quiet.

SUZUKI LEAN BURN CONTROL SYSTEM
The Suzuki Lean Burn Control System is an intelligent fuel delivery system that achieves remarkable improvements in fuel consumption making fuel-efficient four-stroke outboards even more economical. Monitoring engine performance and operating conditions in real time, the system uses the 32-bit onboard ECM to predict fuel needs and deliver a leaner, more precise fuel mixture across the outboard's operating range. The results show significant improvements in fuel economy across the entire powerband, including the cruising range where the engine is used a majority of the time. Comparing the new DF200A with the original V6 DF200, tests show up to a 19% increase in fuel efficiency mainly in the cruising range (around 70% of its maximum speed).

DURABILITY & RELIABILITY
Suzuki's formulated Suzuki Anti-Corrosion Finish starts with a special finish that offers maximum bonding of the finish to the Suzuki Aluminum Alloy. To this an epoxy primer undercoat, black metallic finish, and clear acrylic fiber finish are added to create an effective treatment against corrosion. This finish can be found on all Suzuki line-up models.
COMPUTER EFFICIENT FUEL INJECTION
Advanced multi-point sequential electronic fuel injection monitored by the 32-bit onboard computer keeps Electronic Fuel Injection performance fine-tuned. At the same time, fully transistorized ignition provides a hotter spark with less electronic interference.


COMPACT DESIGNS
Thanks to our exclusive 55° bank angle and offset driveshaft layout, you get power and performance from a sleek, compact outboard that'll look great on any transom – especially yours.
CLEANER, MORE EFFICIENT OPERATION
Suzuki's advanced four stroke technologies deliver cleaner, more efficient operation that conforms to the Recreational Craft Directive (RCD) Standards and has received a three-star rating from the California Air Resources Board (CARB).