DECADE is 
one-stop PoC solution
 consisting of PoC radios, mobile applications, and dispatch and management platforms. This solution delivers versatile services including instantaneous one-to-one and one-to-many Push-to-Talk, full-duplex voice and video calls, map-based dispatch, and instant messaging over public networks.
The coverage of public network signals is everywhere, and the application of smart phones greatly facilitates people's work and life. For industry customers, if a "one-touch, one-call" walkie-talkie can have the advantages of a mobile phone, achieve smoothness everywhere, and have abundant App applications, this will be an extremely convenient and low-cost communication method.
Public network PoC (Push-to-Talk Over Cellular) intercom is a mobile communication system for dispatching and commanding established by the operator's mobile communication network. Because of its convenient use and no distance limitation, it is very popular among users in all walks of life. Its main positioning is to provide work management and command and dispatch services for enterprises, institutions and organizations. It mainly faces group users, such as public security, fire protection, hospitals, urban management, government agencies, transportation, airport aviation, large-scale gatherings, and military Application etc. Due to its wide coverage and low cost, it can be quickly deployed in batches to meet the needs of these groups to improve emergency response speed and work efficiency.
In June 2005, the Open Mobile Alliance (OMA) released the first set of PoC specifications, and shortly after that, the first PoC solution appeared on the market. Since then, in North America, PoC has developed to a certain extent, first using 2G services, and then switching to 3G services, but in Europe, the popularization of this technology is very slow. However, with the launch of commercial 4G LTE networks, the development pattern of PoC has undergone tremendous changes in the past two to three years. 4G network has higher data speed than PMR technology. With this, PoC technology has become a very attractive solution for many (though not all) organizations, especially for non-mission-critical communications customers.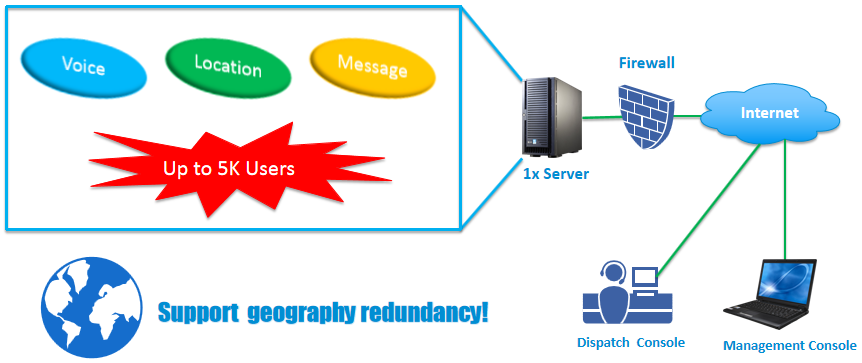 In North America and Europe, PoC platform providers have emerged in large numbers, providing ordinary mobile phone users with better quality of service (QoS), reliability, availability, security, and better support for third-party applications. Although these PoC platforms still provide traditional PMR services, they use commercial 4G LTE cellular networks.
The huge advantage of PoC is that it can not only provide fast PTT service, but also provide one-to-many group call service function of PMR system (normal mobile phone network does not have this function). Unlike the PMR network with limited channel capacity, the PoC platform supports the creation of any number of virtual channels and call groups, and even the creation of dynamic call groups. In addition, it can also support dispatch services including real-time GPS positioning, tracking, and monitoring services, as well as other PMR services, such as joining a group call late, remotely fainting or remotely killing devices.
The platform can also provide other common PMR services such as individual job monitoring and alarms, as well as complete call recording, recording and playback functions. With this platform, PoC devices can also have some of the traditional functions of PDAs, such as workflow management, job invoicing, scanning items, and delivery voucher services. Some PoC platforms also support the integration of PoC services with existing PMR systems through gateways to provide a unified PMR/cellular network. This is equivalent to expanding the range of the PMR network so that people outside the range of the PMR network or those without a PMR terminal can communicate with those using PTT cellular devices.
However, the public network PoC intercom system cannot completely replace the traditional private network intercom system. In the extreme case of emergencies, the public network communication facilities are often severely damaged. Therefore, the private network cluster system of the relevant command department still plays an irreplaceable role when carrying out emergency rescue or performing emergency tasks.
Decade International launch ABELL Brand Poc Nepal in 2021, Now Most of Municipality are using the ABELL POC radio, This radio are more popular in the field of Security Guard suppliers, Business complex event management company. Now Decade International  is about to launch a series of PoC intercom terminals and video Transmation  solutions n. It can realize voice, text, picture, video and other multimedia services for customers through 2G/3G/4G and WIFI networks. It can also realize system hierarchical management and Flexible scheduling.